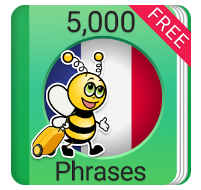 Learn French 5,000 Phrases App to Be Updated and Improved by Development Firm Fun Easy Learn
(PRWEB) June 07, 2016
Learn French 5,000 Phrases, an m-learning app that has revolutionized French language learning in a way, is scheduled to be updated and improved, the developers confirmed. Fun Easy Learn, an e-learning app development firm that has developed this and many other language learning apps, recently announced that their next objective is to update and improve the app's database, with the interface to undergo little or no changes.
"Learn French 5,000 Phrases has been a huge success within only a few days of its launch. However, we want to continue with this momentum and the only way to get even more users downloading and using this app is to enrich and strengthen the database. We would like to admit that the Learn French 5,000 Phrases app name is a misnomer itself, since the app only contains 500 French phrases as of now. However, development is in full swing and we are soon going to add 1000 more phrases by this month. Not only that, 1000 phrases will be added to the database every month", said a development team member before the press here today.
The development team member from Fun Easy Learn also confirmed that the present language count will be increased to facilitate people speaking different languages and living in different parts of the world to learn the French language easily. The present count of language options is thirty, whereas the developers indicated they will add thirty five more language options. "When the app is fully developed, there will be sixty five different language options for our dear users", said the development team head. He also indicated that the interface might undergo minor changes, since it has already received positive reviews from all quarters.
Learn French 5,000 Phrases is one among the family of language learning apps that Fun Easy Learn has recently launched. The owners of the app development firm said that the other apps in the same family are undergoing the same kind of changes presently. They maintained that the updated apps will make language learning even easier for self-taught learners.
About the Company
Learn French 5,000 Phrases is a French language learning app that has received huge recognition.
To know more, visit http://www.funeasylearn.com/app/learn-french/ or visit Play Store at https://play.google.com/store/apps/details?id=com.funeasylearn.phrasebook.french