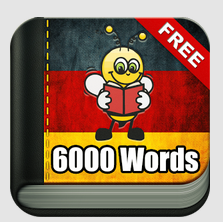 An Innovative Learn German App- Learn German 6000 Words is Now Available on Google Play Store
Chisinau, Moldova (PRWEB) February 25, 2014
Fun Easy Learn is now offering their simple, intuitive and feature-rich German language learning app for free. People interested in learning the language in a simple and fun manner can download the Learn German 6000 Words app from the Google Play Store. The app contains a vocabulary of 6000 German words which have systematically been chosen for a learner to develop a proficiency in the language in a gradual manner. One can keep learning new words from the vocabulary and his or her German skills will keep developing gradually.
Click here to download Learn German 6000 Words.
Besides the app is available for free, another major advantage is that it will remain available to a learner in a handy manner. One can thus use the app whenever he or she gets a free time for learning the language. It's a well-designed visual learning tool that brings the language learning efficiency in a fun manner. All words have associated visuals that clear the meanings more specifically. Moreover, one can set the native language to get the meaning of German words in his/her preferred language. The application has been intuitively designed that serves the purpose of a simple language learning tool for anyone who doesn't have time to attend a classroom based German learning course.
The app defines three difficulty levels for beginners, intermediate learners and advanced level of students. One can gradually accomplish the learning goals and can reach from the beginner level to advanced level by learning the set words specified within the app. Besides, there are several language learning games in the app that help people to Learn German in an interesting manner. The application has all features that develop the German learning ability in a natural manner. One finds the app interesting and loves to switch it on during their spare time and start grasping new German words. This way, the app makes one's time more meaningful.
People can have several advantages of learning German language, and now they have this simple and interesting app to help develop their proficiency in the language. One can learn more about the app by visiting the link http://www.funeasylearn.com/app/learn-german.
About Fun Easy Learn
Fun Easy Learn is a Moldova based company that helps people in learning different languages in a fun and easy way by means of interactive apps. The company has a highly qualified team of developers who develop high-quality and feature-rich educational apps.