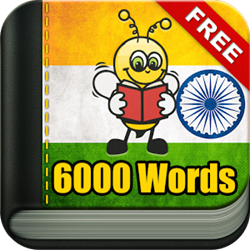 Android App Developer Fun Easy Learn Launches Hindi Learning App-Learn Hindi 6000 Words
(PRWEB) August 30, 2014
Learning the Indian national language is now a matter of a few clicks, as the new app launched by Fun Easy Learn promises to be one of the most convenient ways of learning the language. While learning any foreign language can be a tough task, mastering the language that allegedly has the most varied alphabet set is definitely a hard nut to crack. The app by Fun Easy Learn is one way to try and learn Hindi. The app has received several positive reviews already.
"The number of foreign nationals touring India is increasing almost every day. While a major part of the population understands the language, knowing Hindi is always a plus while touring India," the app developer said. "Even if tourists do not speak the language, it is important that they understand some of the basic Hindi words. With the smooth interface of the app, it is now possible to breeze through the learning process by using our app, Learn Hindi 6000 Words." The company also claims that the app can be used by all, including kids.
With aid from the app, the company has made attempts at delivering to users a full spectrum of common Hindi words. The app allows users to learn Hindi 6000 words that are installed in the app. Furthermore, all Hindi words in the app are accompanied by illustrations. These images can be used to comprehend the meaning of the words. At the same time, the imagery can also be used to remember the word itself. To help with pronunciations, there are also voice recordings on the app. The developer of the app said, "Our research while developing the app showed that pronunciations are a major part of the language. To address the issue, we have made use of recordings by native speakers of the language."
The manager of the website shed more light on app details: "To relate better to the app, we have divided the app into varied topics across several themes. There are 140 subtopics in all."
About the Company
Fun Easy Learn is one of the leading language assistance app developers for android. The site has recently launched a Hindi learning app. The app can be installed for free on the playstore link https://play.google.com/store/apps/details?id=com.funeasylearn.hindi.