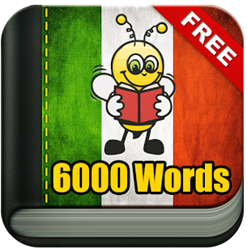 Learn Italian 6000 Words App is Now Available on Google Play Store for People to Learn Italian in a Simple & Fun Way
Chisinau, Moldova (PRWEB) February 24, 2014
Modern internet technologies have far-reaching impact on the mankind and tech-savvy people can enjoy a host of benefits from the emerging technology. Fun Easy Learn now uses the latest technology and creates a simple and effective Italian learning application which is available for free download on the Google Play Store. In the true sense, Moldova based educational app developer redefines the ways one used to learn a foreign language. Their Learn Italian 6000 Words app provides a person with a capability and freedom of learning a language at one's own pace. One can spend their spare time in a more constructive manner and can start learning Italian in a fun way.
Click here to download Learn Italian 6000 Words.
A Smartphone is a small, compact device that can bring immense opportunities for the humans. And now, Fun Easy Learn shows how one can use it to learn a foreign language, without attending a classroom based language training course or without taking the assistance of a language instructor. Moreover, one can start learning whenever he or she has time, no matter the person is travelling in a train or enjoying coffee in a coffee shop. The app brings the 'anytime, anywhere' language learning opportunity and which could be more inspiring for today's busy folks.
The spokesperson of Fun Easy Learn maintains that this application has been developed keeping in mind the convenience and the requirements of the modern population. "People remain connected to their handheld gadgets almost throughout the day and one can switch on the Learn Italian app when they have a free time. There is no need to carry an extra device, or a book, notebook and pen. Thus, it offers the desired ease and simplicity that the modern population has become used to," the spokesperson reveals.
The programmers of the company have chosen 6000 powerful words with their meanings in the person's native language to help develop an efficient Italian language skill. One can learn more about the app and its features by following the link http://www.funeasylearn.com/app/learn-italian/.
About Fun Easy Learn
Fun Easy Learn is a Moldova based company that helps people in learning different languages in a fun and easy way by means of interactive apps. The company has a highly qualified team of developers who develop high-quality and feature-rich educational apps.