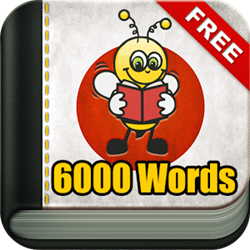 Fun Easy Learn Now Launches "Learn Japanese 6000 Words" Android App
Worldwide (PRWEB) July 25, 2014
An innovative android app called "Learn Japanese 6000 Words" has been introduced by Fun Easy Learn. This app not only helps people to learn Japanese in their spare time, but also entertain them with fun games.
Nowadays, more and more people would like to have the ability to speak another language. One of the reason is that those who can speak another language often have more opportunities. The ability to speak a fluent language also benefits them a lot during international travel. Traditionally, it takes much time and effort for people to learn foreign languages in classroom. However, with advancing technologies, new software has emerged to make it easier to learn a language. This is especially true with those who want to learn Japanese, which is one of the most sought after languages.
The recent release of "Learn Japanese 6000 Words" has impressed lots of users worldwide. As the name implies, the software makes it possible for an average Joe to learn a new language in a fun way without thousands of dollars for tutoring. The application is packed with six thousand words that are broken down into sub-categories. When attempting to speak a word, one can quickly choose a topic and sub topic to find the exact word he or she is looking for. This new and revolutionary method will allow users to learn languages via their mobile phone.
Besides being able to learn Japanese 6000 words, the Fun Easy Learn application is packed with powerful and effective games that are specifically designed to help users to learn a second language. Match words and phrases from one's fluent language to those in the language he or she wishes to learn. This innovative form of teaching is fun and effective. In little time, one can begin to make the matches without trouble of hesitation. Match pictures with their meaning in Japanese. The games are fun and this application is developing a new innovative strategy for learning Japanese.
About Fun Easy Learn
With so many educational applications in the market, Fun Easy Learn offers a unique approach to language learning. The developers of the application understand the learning process and have developed a fun way to keep learners motivated. It will also keep them entertained. The company strives to improve their applications and continue developing fun and exciting methods to benefit users.