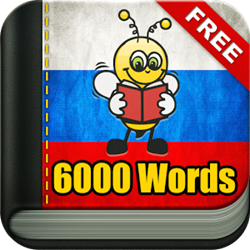 Fun Easy Learn Introduces a New Android App to Make Russian Language Education Entertaining
(PRWEB) August 30, 2014
Fun Easy Learn, one of the most revered names in the application development industry, proudly presents a new app for language education enthusiasts. Smartphone and Tablets have successfully found their way in the daily lives of modern individuals. Apps or software designs have crowded the market place in order to support the Smartphone users in shouldering their daily work from sunrise and long after the sunset. Fun Easy Learn Company has helped people to spend their leisure hours learning a Russian language. Russian can be a complex language, even for a seasoned language enthusiast. However, with the help of new app of Fun Easy Learn organization, individuals can learn Russian 6000 words in an entertaining manner.
This new app comes with a sleek interface, simple design, and fast work process. Developers of this company have maintained implementation of short and easy steps to execute different requirements with the help of this application. Russian language is actually an amalgamation of 'Cyrillic' alphabets. Therefore, enthusiasts often feel the need of professional assistance in order to learn it in an appropriate manner. Russian language learning app of Fun Easy Learn Company has successfully found a way to assist people in understanding this particular language. This application encourages people from different age group in similar manner in order to learn Russian with fun.
This Android based app is not a traditional software with features that you have previously used and experienced. Fun Easy Learn Company has meticulously researched to find specific topics to learn Russian easily and they have brought all of these education processes together for a successful and entertaining education experience of the user. This app has 15 different topics that are based on various unique themes that can supplement your learning process with fun. The topics are divided in 140 subtopics in order to add excitement in the learning process and help the education enthusiast to progress in a positive manner by absorbing knowledge.
About The Company:
Fun Easy Learn, a well celebrated association of highly capable Android application developers has introduced an efficient app to make Russian language education fun.
Visit https://play.google.com/store/apps/details?id=com.funeasylearn.russian site to find all the required information on Learn Russian app.