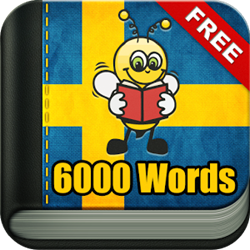 FunEasyLearn Has Released A New Language Learning App - "Learn Swedish 6000 Words"
(PRWEB) September 29, 2014
Like most European languages, Swedish is not a piece of cake. Fun Easy Learn, one of the leading language app makers has recently launched Learn Swedish 6000 Words, an app that makes Swedish learning easy. The app contains 7 games and in that way people can learn Swedish in a uniquely entertaining manner. The Moldova app developer aims at making learning Swedish a cakewalk for users. The company has taken due care to make the app interactive. The interface is easy-going and even kids can learn the language easily from the app.
The app publishing team has developed the "Learn Swedish 6000 Words" app in a way that beginners can learn Swedish words, their meanings and pronunciations while playing games. One of the best things about the app is that it is available on Google Play Store absolutely and it is free. By simply downloading the app, the users will gain instant access to an exhaustive vocabulary of 6000 Swedish words. The developers claim that the inclusion of each word has been made in conformity with strict scientific standards. The publishers also said that they have steered clear from picking words randomly. Care has also been taken to keep the app light without consuming much phone memory.
The developer of the app recently said: "Learning a new language can be both difficult and fun. We know that Swedish is not an easy language to master. We have adopted a new approach of teaching Swedish to people. Learners can easily translate Swedish words into their native language. There are also pronunciation aids that come in-built in the app."
The manager of the site recently addressed a group of journalists. He said: "The app is simple enough for even a child to use. People who learn Swedish through the app also get to know the proper pronunciations of each word. There are also games within the app that will help learners practice the words that they are learning."
About the Company
Fun Easy Learn is a language aid app developer that has already launched apps that felicitate learning English, Spanish, German, Italian, Hindi and Polish.
More information about this app can be acquired about the app at https://play.google.com/store/apps/details?id=com.funeasylearn.swedish