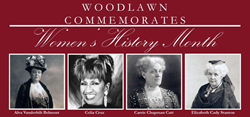 Bronx, NY (PRWEB) March 11, 2015
In honor of Women's History Month, The Woodlawn Cemetery, one of the largest cemeteries in New York City and a National Historic Landmark, is taking part in celebrating the lives of women who influenced the world.
Many pioneering women are interred at The Woodlawn Cemetery. Those, such as Elizabeth Cady Stanton and Carrie Chapman Catt, who initiated the effort to gain equal rights and marched to gain the right to vote are just a few of those in the care of Woodlawn Cemetery. Women who made the news and wrote the headlines, such as Ruth Rowland Nichols, are remembered among the many, as are philanthropists who dedicated their lives to improving the city and country. Builders of museums and foundresses of corporations, such as Margaret Rudkin, Malvina Hoffman and Gertrude Vanderbilt Whitney, and those who contributed to the strength of our spiritual institutions are memorialized within the boundaries of the 400-acre garden cemetery.
Visitors can schedule private tours for groups and can arrange them by contacting Barbara Selesky at 718.408.5652. Download the Woodlawn Cemetery Mobile App for self-guided tours, which include the Women's History tour. Other available tours include the popular Jazz Musicians, Artists and Architects, Civil War, and Black History to name a few. For more information on discovering Woodlawn, visit http://www.thewoodlawncemetery.org.
About the company:
Founded in 1863 and located in the Bronx, The Woodlawn Cemetery is over 150 years old. It is one of the largest cemeteries in New York City and is a designated National Historic Landmark. Woodlawn Cemetery is the final resting place of many persons of note. Celebrated lot owners include artists, religious leaders, writers, business moguls, civic leaders, entertainers, diplomats, jazz musicians, suffragists and more.