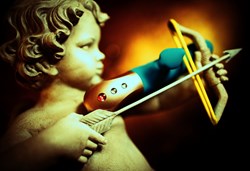 Valentine's Day 2014 brings women and their lovers an opportunity to experience Cupid's legendary weapon up close and personal.
Los Angeles, CA (PRWEB) October 31, 2013
Valentine's Day 2014 brings women and their lovers an opportunity to experience Cupid's legendary weapon up close and personal. The FUN FACTORY Amorino is the first vibrator ever to use a silicone band to transmit vibrations all around the external erogenous zones. The string is removable and can be adjusted to create different sensations.
Amorino is designed and made in Germany. It is highly functional and covered by a 2-year full warranty, as are all FUN FACTORY products. A board of sex experts and designers had in mind to make a toy that stimulates some of the most sensitive yet unexplored zones of the female genitalia….and they wanted to reach these areas all at once.
One area of interest, in particular, were the sides of the clitoris. Expert Chris Maxwell Rose from PleasureMechanics.com says: "the sides of the clitoral shaft are incredibly sensitive but often get overlooked. We teach dozens of erotic massage strokes to stimulate these hot spots, but have never seen a toy specifically designed to target the area. Women love stimulation on the sides of the clitoral shaft because it is highly arousing but not as hyper sensitive as stimulating the head of the clitoris itself." Emilie Rosanvallon, Director of Marketing at FUN FACTORY USA adds: "most toys designed for external stimulation fit over the top of the clitoris and neglect the sides. The FUN FACTORY Amorino envelops the clitoris with vibrations, while the nose of the toy fits over the clitoris itself and the arc is inserted vaginally. There is no escaping the vibrations of Amorino."
Cupid's bow has never been so high tech. Amorino is submersible, it has 6 speed and 6 patterns, a kill-switch, it is fully rechargeable, made with medical grade silicone and it even has a travel-lock function, so it will never turn on in a purse. Did we mention that it vibrates with all the might of a German engineered motor and yet it is very quiet? Happy Valentine Season everyone!
FUNFACTORY's Amorino retails for $99.99 and is available at http://www.funfactoryusa.com starting January 2014.
ABOUT FUN FACTORY:
FUN FACTORY is Europe's largest manufacturer of silicone erotic toys. Engineers Dirk Bauer and Michael Pahl founded the company in 1996. It specializes in making high tech, aesthetic and trendy products, all manufactured in Germany. In 2003, FUN FACTORY opened its first subsidiary in the USA. In 2005, it opened a third one in Great Britain. Today, the company has over 120 employees. Its products have won more mainstream awards worldwide than any other company in the Novelty Industry.