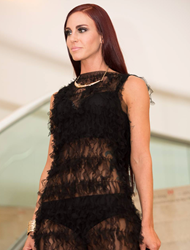 The purpose of FUNKtional Wearables is to give men and women striving to improve their health and well-being affordable options to always look appropriate and fashionable.
San Diego, California (PRWEB) November 04, 2014
FUNKtional Wearables Fitbit Accessories have been designed to securely conceal Fitbit® Flex or Fitbit® One activity trackers. The idea for the brand originated when the founder, Cynthia Blais, who has a background as both a fashion stylist and fitness professional, frequently found herself in the frustrating situation of trying to make the Fitbit® Flex silicone wristband look appropriate with office or party attire.
Shortly after Blais started work on this idea, Tory Burch joined the Wearable Tech trend with her designer Fitbit® jewelry. Burch's Fitbit® jewelry disguised the Fitbit® Flex with simple gold toned brass pieces that basically hold the activity trackers in locket type boxes. Her line includes just four pieces total, with the bracelet and necklace each retailing close to $200. While beautiful and versatile, the Tory Burch Fitbit® accessories are anything but accessible to everyone, and the line does not include any Fitbit® accessories for men, nor any watches or headbands. FUNKtional Wearables offers designs for both Fitbit® Flex and Fitbit® One activity trackers, while the Tory Burch line is compatible only with the Fitbit® Flex.
FUNKtional Wearables offers a vast selection with over 100 different pieces, so they offer designs that appeal to a variety of ages and personal styles. They specialize in high quality, versatile pieces that are designed to work with any outfit, and can be worn seamlessly from day to night. All FUNKtional Wearable pieces can be worn with or without a FitBit®. Ranging between $20 and $100, their Fitbit® jewelry products are very affordable as well. They even offer some matching jewelry sets. The best part about the FUNKtional Wearables Fitbit® Accessories line is that they can be worn anywhere, and nobody would ever guess a fitness tracker is part of the accessory as the tracker is completely concealed. In contrast, Tory Burch's line has been widely criticized for the fact that the black plastic activity tracker is somewhat visible. Many grateful customers have written to FUNKtional Wearables to let them know how appreciative they are that now they can wear their Fitbit® completely privately, because when they wore their Fitbit® in a silicone band or even in the somewhat concealed Tory Burch pieces, this led to the uncomfortable situation of being asked personal health questions. A receptionist in La Jolla, CA says "It is none of my co-workers business how many pounds I have lost or how many steps I take, but yet every day when I wore my FitBit® to work they would ask, and sometimes even complete strangers would too. Now, since finding FUNKtional Wearables, they still make comments, but instead it is just how beautiful my jewelry is!"
Fitness and Fashion come together as one with FUNKtional Wearables. The line will be expanding soon to include more brands of fitness trackers including the Jawbone Up system. Their Fitbit® accessories line has been featured in the Washington Post Style section, on FOX 5 News Washington DC, as well as in the Modev Wearable Tech fashion show. FUNKtional Wearables Fitbit® accessories are available on FUNKtionalWearables.com, as well as through their sister website, http://www.GlobalZFitness.com. They also are available for purchase on Amazon, Etsy, and Ebay.