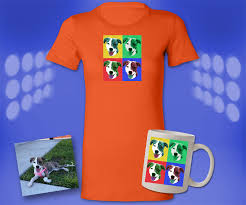 We'll print just one shirt and can package it with other products on our website.
Phoenix, AZ (PRWEB) July 06, 2013
The printed garments industry includes hundreds of printers specializing in specific areas of the custom apparel industry. The Murray Shirts Co. produces pet related products from its single location. This company has recently expanded its services and is now providing funny t shirts that are printed for pet owners in its inventory online at http://www.murrayshirts.com.
The shirts include stock designs and customized artwork that is co-created by owners of pets for gifts or personal use.
The numbers of shirts that are now created by large and small manufacturers has increased the selections for custom print jobs. The traditional 100 percent cotton shirts that are found through most wholesalers provides the base level of garments available.
New polymers now exist to create shirts able to withstand wear patterns and hold color representation easier. The poly-cotton blends, synthetic and other styles are represented in the choices of shirts now for sale online.
"We let the customers choose the color, type of shirt and designs," said Shon Strickland, found of the Murray Shirts Co. This personalized service is creating one alternative to standard stock designs and minimum order quantities that are common in the printing industry. "We'll print just one shirt and can package it with other products on our website," Strickland added. This dedication to customer service has created a sales increase this year.
As part of business expansion by this company, a new design team has been hired to create the customized pieces of art that are now applied with each printing order. Full-color customer supplied photographs of pets are now incorporated into the original artwork that is available for each design. These designers are contributing to improved output quality of each designed t shirt.
The online ordering center now allows customers to choose between stock or custom artwork. Immediate customer service is now offered through the company toll-free number that is accessible during regular hours of business. Consumers are encouraged to call 1-855-577-8050 with questions regarding new orders, design questions or about orders in production.
About MurrayShirts.com
The MurrayShirts.com company produces full-color printed garments as an exclusive pet printing products company. A professional staff helps to design customer orders and provide immediate assistance through through the brand new online ordering system. The t shirts, mugs and other printed substrates that are sold by this company are guaranteed during the useful life of each product. The MurrayShirts.com company provides a toll-free number available nationally to customers to offer assistance before, during or after the ordering process is complete for each printed product.