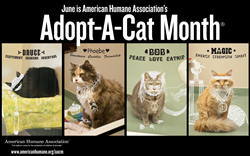 Houston, Texas (PRWEB) May 28, 2014
Funny Fur boutique and pet supplies store of Houston is celebrating National Adopt A Cat Month® by donating a portion of sales proceeds to a local no-kill shelter for every bag of cat food they sell during the month of June.
The American Humane Association estimates that four million cats and kittens end up in the shelters every year. Each spring and summer, shelters become overwhelmed with new litters of kittens. The American Humane Association started Adopt a Cat Month® in 1975 to help bring awareness to this issue and to promote cat adoptions.
Funny Fur is participating in Adopt A Cat Month® by donating twenty-five cents to Friends for Life Animal Shelter for every bag of cat food sold in their store June.
Stop by and support Funny Fur by buying a bag of cat food, or better yet, make a trip to your local shelter and adopt a cat that's needs a loving home.
Customers can get the latest information about special offers and promotions, and events at Funny Fur by joining its newsletter and special offers mailing list. Or better yet, become a fan on Facebook and follow them on Twitter to get the latest scoop.
About Friends for Life
Friends for Life is the fastest growing No Kill animal adoption and rescue organization in Houston, dedicated to offering No Kill solutions to the animals of Houston and the people who want to help them. Their programs include rescue, rehabilitation, adoption, humane education and animal food/supply support. They are a dynamic non-profit made up of people of all backgrounds and professions including veterinarians, lawyers, business people, architects, physicians, educators and trained shelter staff committed to offering Houston a real alternative to shelters that kill homeless animals.
About Funny Fur
Funny Fur is a premier pet supply store and boutique specializing in designer dog clothes, dog carriers, and other pet accessories for pet parents. Funny Fur also offers a great selection of all natural and holistic pet food and treats, raw pet food, and all natural solutions for general household and pet care products. Funny Fur contributes to local animal rescues and other non-profit organizations dedicated to the wellness of animals.