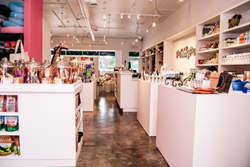 Our move to River Oaks allowed us to expand our offerings, especially in premium pet foods and treats, and the central location is more convenient for our customers.
Houston, Texas (PRWEB) April 30, 2014
Funny Fur boutique and pet supplies store of Houston, is celebrating their 2nd anniversary at the Lamar River Oaks Shopping Center located at 3268 Westheimer (on the corner of River Oaks Blvd).
Established in 2006, Funny Fur started as an online web store in Houston. The company's mission was to scour the world for high quality, stylish, and unique pet products. Funny Fur grew to have over 2k products from all over the world and offered them to customers at competitive prices. Funny Fur gained national and international press with features in magazines, TV, and film. Most notably, Funny Fur worked with the costume team for Disney's box office hit "Beverly Hills Chihuahua" to supply clothes for the dogs in the hit film. In 2007, the first Funny Fur retail store opened in Houston. Customers came from all over Texas and even some from international countries to visit the Houston store. In early 2012, Funny Fur moved to the centrally located neighborhood of River Oaks in Houston. The new flagship Funny Fur store at River Oaks houses hundreds of unique pet products including designer dog clothes and accessories; and all natural and holistic pet foods & treats to household solutions.
They have not only been able offer more products at the River Oaks location, but have also become more involved with local animal shelters and rescue groups by hosting benefits and monthly Meet & Greet events.
The extra space also allows them to host educational events for customers featuring product demonstrations and consultations from pet food specialists.
"Funny Fur's mission is to bring the best high quality and unique pet products to customers at great prices. Whether it is all natural and holistic pet foods, or all natural and eco-friendly pet care products, our aim has been to bring customers products that help them improve their pet's life. Our move to River Oaks allowed us to expand our offerings, especially in premium pet foods and treats, and the central location is more convenient for our customers. Also, we now have the space to host events for local pet rescues and do pet food demonstrations to better educate pet parents." says Funny Fur store manager, Karen Clark.
To thank their loyal customers for their patronage during the last two years, Funny Fur will be giving out 10% off customer appreciation coupons*. Coupons may be used anytime during the month of May and are valid on the total purchase. *Excludes pet food and treats.
Well-behaved, leashed pets are welcome to shop in-store with their owners. Customers can get the latest information about special offers and promotions, and events at Funny Fur by joining its newsletter and special offers mailing list. Or better yet, become a fan on facebook and follow them on twitter to get the latest scoop.
About Funny Fur
Funny Fur is a premier pet supply store and boutique specializing in designer dog clothes, dog carriers, and other pet accessories for pet parents. Funny Fur also offers a great selection of all natural and holistic pet food and treats, raw pet food, and all natural solutions for general household and pet care products. Funny Fur contributes to local animal rescues and other non-profit organizations dedicated to the wellness of animals.