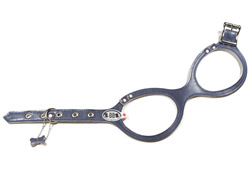 Form affects function and function affects health! Buddy Belt enhances proper function and health.
Houston, Texas (PRWEB) March 31, 2014
Funny Fur, a leading online and Houston luxury pet boutique, announces the release of their exclusive Buddy Belt Dog Harness color, Morning Dove. This limited edition Paw Pick color is available only through Funny Fur.
The Buddy Belt is a dog harness designed to reduce both stress and resistance on the neck, spine and throat. Its simple step-in design has only one buckle and slips on in seconds.
Morning Dove, a dark grey-purple designer leather, is a Buddy Belt Paw Pick color. Paw Picks are small, limited edition batches of Buddy Belts sold exclusively at one retailer.
Both animal chiropractors and veterinarians have endorsed the use of the Buddy Belt. "Form affects function and function affects health! Buddy Belt enhances proper function and health," says Certified Animal Chiropractor, Dr. Leo K. Rosenberg.
Buddy Belts are available in 10 sizes to meet the needs of most dogs from 2 to 100+ pounds. Matching dog collars, leashes and accessories are also available.
Funny Fur offers the full line of Buddy Belt dog harnesses, collars, leashes and accessories. Funny Fur customers may also customize their Buddy Belt purchases with crystals, pearl studs or a star concho charm, which are embellished during production by Buddy Belt manufacturers in Canada.
The Morning Dove Buddy Belt dog harness is available for purchase on Funny Fur's website. This limited edition color is available for customization until April 9th, 2014.
Please visit Funny Fur's website (http://www.funnyfur.com), store Facebook page, or subscribe to their store newsletter for a full schedule of upcoming events and promotions.
About Funny Fur
Funny Fur is a luxury pet boutique dedicated to helping pet owners find everything they fancy with convenience and ease for their stylish dogs. Happy dogs and their smitten pet parents dig there for fashion forward designer dog apparel and clothes, one of a kind doggy couture wear, fashionable pet carriers, designer dog accessories, dog collars and harnesses, eco-friendly grooming and spa care, novelty dog toys, handmade pet jewelry, organic dog treats, pet furniture, premium and all natural & holistic pet foods and treats, and other fabulous dog gifts and goodies. "At Funny Fur, you can turn your pup into a prince or princess. Everything dog, everyday™. Happy pets dig here™." Funny Fur contributes to local animal rescues and other non-profit organizations dedicated to the wellness of animals.