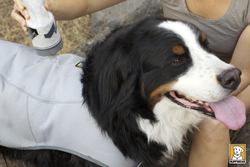 Houston, Texas (PRWEB) June 29, 2014
Funny Fur, a Houston boutique and pet supplies store, will be hosting a Dog Days of Summer sale event from July 14th to July 20th, 2014. Customers can look forward to saving 10% off on different pet summer essentials each day.
Funny Fur starts the sale off on Monday, July 14th with 10% off all swimwear, including dog bikinis, swim trunks and life jackets.
Tuesday, July 15th, save 10% off all dog toys, including water toys, rope toys and organic dog toys.
Wednesday, July 16th, save 10% off all outdoor cooling products, including pool mats, cooling mats, and pet cooling vests.
Thursday, July 17th, save 10% off all outdoor care products, shampoos and sprays, including pet sunscreen, paw rubs, coconut oil, and bug repellent shampoos and sprays.
Friday, July 18th, celebrate National Picnic Day with 10% off all pet picnic essentials, including blankets, treats, travel bowls, pet pens and interactive outdoor dog toys.
Saturday, July 19th, save 10% off on all raw dog treats, including raw beef bones, lamb bones and turkey necks.
Sunday, July 20th, celebrate National Ice Cream Day with 10% off organic dog ice cream.
Customers can get the latest information about special offers and promotions, and events at Funny Fur by joining its newsletter and special offers mailing list. Or better yet, become a fan on facebook and follow them on twitter to get the latest scoop.
About Funny Fur
Funny Fur is a premier pet supply store and boutique specializing in designer dog clothes, dog carriers, and other pet accessories for pet parents. Funny Fur also offers a great selection of all natural and holistic pet food and treats, raw pet food, and all natural solutions for general household and pet care products. Funny Fur contributes to local animal rescues and other non-profit organizations dedicated to the wellness of animals.