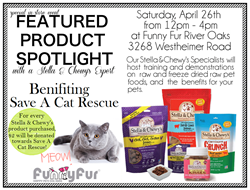 Houston, Texas (PRWEB) April 21, 2014
Funny Fur, a Houston dog boutique and pet supplies store, is hosting a double event on April 26th, 2014 from 12 p.m. to 4 p.m. with a featured product spotlight on Stella & Chewy's pet food and Meet & Greet with Save A Cat Rescue.
For every Stella & Chewy product purchased during the event, two dollars will be donated to Save A Cat Rescue, a local Houston non-profit rescue.
A Stella & Chewy's specialist will host training and demonstrations on raw and freeze-dried raw dog food. Customers can also receive individual consultations with the pet nutrition specialist for specific answers to their pet's needs. Free samples of food and treats and special offers will be offered throughout the event.
At the same time, Save A Cat Rescue of Houston will be at Funny Fur with adoptable cats for a Meet & Greet. They currently have 87 cats in foster care looking for forever homes. Only a select few will be at the Meet & Greet. To see all available adoptable cats from Save A Cat Rescue, please visit their Adoptable Cats page on their website.
Well-behaved, leashed pets are welcome to attend. Please visit Funny Fur's website (http://www.funnyfur.com), store Facebook page, or subscribe to their store newsletter for a full schedule of upcoming events.
About Funny Fur
Funny Fur is a premier pet supply store and boutique specializing in designer dog clothes, dog carriers, and other pet accessories for pet parents. Funny Fur also offers a great selection of all natural and holistic pet foods and treats, raw pet food, and all natural solutions for general household and pet care products. Funny Fur contributes to local animal rescues and other non-profit organizations dedicated to the wellness of animals.
About Save A Cat Rescue
Save a Cat Rescue (SACR) is a Houston based, no kill, animal welfare group created to save, shelter, and seek permanent homes for homeless cats. SACR's cats include strays and abandoned/abused cats from other shelters that would have otherwise been euthanized. SACR provides medical care in the form of vaccinations, testing, and spay/neuter services prior to adopting animals into responsible, loving, forever homes. Save a Cat Rescue is a non-profit, charitable corporation with Sec. 501(C)3.