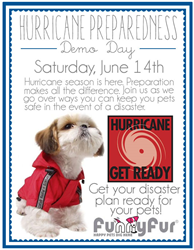 Houston, Texas (PRWEB) May 29, 2014
Funny Fur, a Houston boutique and pet supplies store, will be hosting an informational event on how to prepare for hurricane season with pets. Preparation makes all the difference. Join Funny Fur on Saturday, June 14, 2014, as they go over ways to keep pets safe in the event of a disaster.
As hurricane season kicks off on June first, many pet owners will not have a disaster plan in place that includes an important member of the family – their pet. Funny Fur wants to make it easy to ensure that pets are taken care of in the case of an emergency – hurricane or otherwise.
Funny Fur will cover the following important topics during the demo:

The importance of using a pet ID tag
Assembling a disaster kit for your pet
Planning to evacuate with your pet
Preparing to stay home with your pet during a disaster
Safety after a disaster
Preparation is key when it comes to safety. Learn about easy steps you can take to ensure the safety of you and your pet in the case of a disaster.
Customers can get the latest information about special offers and promotions, and events at Funny Fur by joining its newsletter and special offers mailing list. Or better yet, become a fan on facebook and follow them on twitter to get the latest scoop.
About Funny Fur
Funny Fur is a premier pet supply store and boutique specializing in designer dog clothes, dog carriers, and other pet accessories for pet parents. Funny Fur also offers a great selection of all natural and holistic pet food and treats, raw pet food, and all natural solutions for general household and pet care products. Funny Fur contributes to local animal rescues and other non-profit organizations dedicated to the wellness of animals.