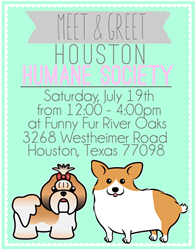 Houston, TX (PRWEB) June 30, 2014
Funny Fur, a Houston boutique and pet supplies store, will be hosting the Houston Humane Society for two Meet & Greet events this July.
The first Meet & Greet event with the Houston Humane Society will take place on Saturday, July 19th, from 12pm-4pm. They will host the Houston Humane Society again the following Saturday, July 26th, from 12pm-4pm.
Both events will take place at Funny Fur's River Oaks location. Several adoptable pets will be at the store on each occasion waiting to meet their new families.
Funny Fur has long been a rescue-friendly store, and regularly hosts events for area animal advocacy and rescue organizations to help in the effort to make Houston a no kill city.
Funny Fur has worked with numerous local animal rescues groups for these events in the past, including Friends For Life, Save A Cat Rescue, Red Collar Rescue, Special Pals, Pup Squad and many other shelters and rescues from across South Texas.
Their Meet & Greet events spotlight animals that are available for adoption in the greater Houston area and give potential adopters have the opportunity to meet several foster animals that may fit their families' lifestyles.
Funny Fur also supports these organizations by donating a portion of proceeds from various store events and parties throughout the year.
Please visit the Houston Humane Society website for a full list of adoptable animals. Only a select few will be at the event.
Customers can get the latest information about special offers and promotions, and events at Funny Fur by joining its newsletter and special offers mailing list. Or better yet, become a fan on facebook and follow them on twitter to get the latest scoop.
About the Houston Humane Society
The Houston Humane Society (HHS) is a non-profit Pet Rescue, Pet Adoption, and Animal Shelter. HHS offers numerous animal welfare programs for Houston area residents and their pets, including pet adoptions, humane education, R.A.I.D.E.R. cruelty investigations, and Houston's only $30 spay and neuter clinic.
About Funny Fur
Funny Fur is a premier pet supply store and boutique specializing in designer dog clothes, dog carriers, and other pet accessories for pet parents. Funny Fur also offers a great selection of all natural and holistic pet food and treats, raw pet food, and all natural solutions for general household and pet care products. Funny Fur contributes to local animal rescues and other non-profit organizations dedicated to the wellness of animals.