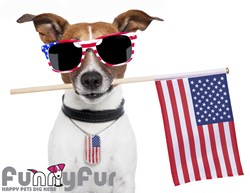 Houston, Texas (PRWEB) August 30, 2013
Funny Fur, a leading online and Houston luxury pet boutique, announces their annual Labor Day weekend sale, which includes their new fall arrivals and Halloween dog costume selections.
Celebrate Labor Day at FunnyFur.com with a four-day online-only sale. Beginning August 30th and continuing throughout the holiday weekend, customers can save 15% off sitewide on everything from dog clothes to Halloween dog costumes.
Labor Day is the perfect opportunity for customers to preview and purchase brand new fall and winter styles, as well as Halloween dog costumes, at a discounted price.
Funny Fur has added a huge selection of new Fall merchandise in anticipation of cooler weather. New items like dog coats, hoodies, sweaters and dog boots have begun to make an appearance.
Funny Fur has dog clothes to fit any dog. They have big dog clothes that fit dogs weighing up to 120 pounds all the way down to dog clothes that fit the smallest one-pound puppies and everything in between.
Enter promo code 'LABOR15' at checkout to receive 15% off the entire order. Funny Fur encourages customers to sign up for their newsletter and to check their social networking pages on Facebook and Twitter for promotion details.
About Funny Fur
Funny Fur is a luxury pet boutique dedicated to helping pet owners find everything they fancy with convenience and ease, all in one place, for their stylish dogs. Happy dogs and their smitten pet parents dig there for fashion forward designer dog apparel and clothes, one of a kind doggy couture wear, fashionable pet carriers, designer dog accessories, dog collars and harnesses, eco-friendly grooming and spa care, novelty dog toys, handmade pet jewelry, organic dog treats, pet furniture, premium and all natural & holistic pet foods and treats, and other fabulous dog gifts and goodies. "At Funny Fur, you can turn your pup into a prince or princess. Everything dog, everyday™. Happy pets dig here™. And that's the way we like it." Funny Fur contributes to local animal rescues and other non-profit organizations dedicated to the wellness of animals.