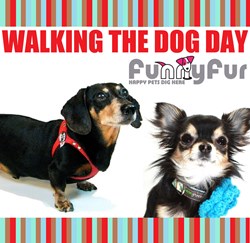 What better way to kick off a new routine with your dog than with new gear!
Houston, Texas (PRWEB) February 04, 2014
Funny Fur, a Houston dog boutique and pet supplies store, is promoting Walking The Dog Day on Saturday, February 22nd to support the overall health and wellness of both dog and owner with a special 20% off discount on all dog collars, harnesses and leads.
Pet owners play an important role in the overall health of their animals. A routine exercise plan can keep both dogs and humans happy and healthy.
Walking and exercising has been proven to lower blood pressure, increase energy, and maintain a healthy weight. In addition to health benefits, dog walking improves the bond between both owner and dog, and between dogs themselves, when walking multiple dogs.
According to many dog trainers and behavioral experts, walking serves as an outlet for excess energy that results in a calmer, satisfied dog. When physically and mentally stimulated on a regular basis, dogs exhibit less behavioral issues like aggression, destruction and anxiety.
"What better way to kick off a new routine with your dog than with new gear! Funny Fur is offering 20% off all dog harnesses, collars and leads in our River Oaks store on Friday, February 21st, so you can be ready to go for Walking Your Dog Day on Saturday, February 22nd," says Karen Clark, Funny Fur associate.
Funny Fur has a huge selection of dog collars to fit dogs from tiny teacups to large breeds, in many fabrics and color options to fit each dog's individual style. They also stock many different dog harnesses from best selling brands like Buddy Belts and Susan Lanci Designs. Leash options include unique and trendy to simple and classic styles in both fixed and retractable leads.
Funny Fur is also offering an online discount on all dog collars, harnesses and leads for Walking Your Dog Day. Please visit the company website (http://www.funnyfur.com) and social media pages on Facebook and Twitter for more information. Well-behaved, leashed dogs are always welcome to shop at Funny Fur.
About Funny Fur
Funny Fur is a premier pet supply store and boutique specializing in designer dog clothes, dog carriers, and other pet accessories for pet parents. Funny Fur also offers a great selection of all natural and holistic pet foods and treats, raw pet food, and all natural solutions for general household and pet care products. Funny Fur contributes to local animal rescues and other non-profit organizations dedicated to the wellness of animals.