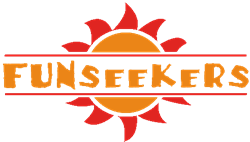 Orlando, FL (PRWEB) April 23, 2014
Funseekers Vacations knows that the Walt Disney World resort in Florida is a popular destination for traveling families each year. Because the theme parks at the resort offer so many opportunities, things can quickly feel overwhelming. The following travel tips are geared towards preparing families for their Disney World vacation, helping them have the dream vacation they have always wanted to have with their families.
Funseekers Vacations points out that guests traveling with family members celebrating special occasions should mention it to resort staff members when they check in or buy their tickets. Visiting the parks for a birthday or anniversary, or even if it's a first-time visit, warrants guest members special pins to wear that can call attention to their special visit. Staff members are trained to provide these pin-wearing guests special treatment, and to go out of their way to ensure that their visit goes great.
Funseekers Vacations is well aware that during the summer months, and around major holidays, the Disney parks fill up very quickly. With that in mind, guests should head to the parks as soon as they open, and make their way immediately to the "big ticket" attractions like Splash Mountain, Test Track, or Tower of Terror, to avoid being stuck in the lengthy lines that form later on during the day. The parks also offer FastPass tickets, which allow guests to return to a specific attraction at a later time, to wait in an accelerated queue.
Funseekers Vacations understands that children can quickly become agitated while waiting in long lines. Luckily, the Disney parks offer free Wi-Fi for guests. A family can bring an old, kid-friendly tablet, and some headphones to allow kids to have something to play or watch while waiting in line.
Because it is Florida, Funseekers Vacations knows the weather can vary from sunshine to a downpour in no time at all. Disney sells umbrellas and rain ponchos throughout the park, but thrifty travelers will come prepared with their own umbrellas or ponchos, which probably cost a third of the price. To save even more money while visiting, bring a large water bottle and refill it at one of the park's many water fountains. Walt Disney World lets guests bring in outside food and beverages, so a backpack full of snacks and water bottles is a great way to save money while visiting.
For more information or to become a member of Funseekers Vacations, contact:
866-513-6400
info(at)yourtravelservices(dot)org
Press release distributed by Reputation Maxx, a leader in online reputation management and part of a family of companies that includes Prensa Ahora and Enterate Ahora.