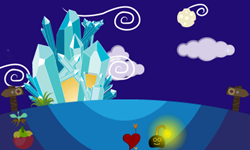 Nearly 15% of the code base was completely changed in order to accommodate iOS.
Orange, CA (PRWEB) August 13, 2013
Furdiburb, the virtual pet adventure and puzzle game, is currently being ported to the App Store. The creator, Sheado.net, an indie game company, feels the project is at a prime stopping point and is rigorously testing the game to look for bugs and fix them.
"Furdiburb is going to support all iOS devices running iOS version 6.0 and newer," remarked Chad Ata, lead developer. "That includes different generations of iPod touch, iPhone, iPad, and iPad Mini devices. We really want to minimize the possibility of any bugs so we are making sure to take the time to check things out on each of these devices. This is especially important since nearly 15% of the code base was completely changed in order to accommodate iOS."
One day, Furdiburb was accidentally left behind on Earth while his parents were on vacation. Players adopt him and care for him when sick, bathe him, and grow food to feed their virtual pet.
Once players discover the broken spaceship and explore the colorful world, it becomes apparent that spaceship parts are necessary to rebuild the ship in order to return Furdiburb home. These parts can be acquired by quests of star jumping, music writing, farming, bug dodging, fishing, and puzzle-solving with object manipulation. Those who are more interested in casual game-play can customize their virtual pet's looks, houses, furniture with fun themes, and marvel at his stages of growth.
About Sheado.net
Founded in 2010 by two guys and a gal with the mission of "making the world a happier place - one app at a time". Targeting Android devices, iPhone, iPad, iPod touch, Amazon devices, and NOOK Family of Devices by Barnes & Noble, Sheado.net is dedicated in creating rewarding and enjoyable experiences for users of any age.
The company is porting Furdiburb to iOS and is also working on Game #2 Code-Named Project Evo.