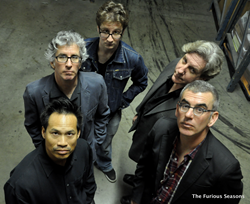 "In addition to the wonderfully jangly guitars and busy violin a special treat here is David's vocals, at once heartbreaking and supremely confident." – Daggerzine
Los Angeles, CA (PRWEB) March 04, 2015
The Furious Seasons' 4th release, "My Love Is Strong," combines David Steinhart's penchant for catchy melodies and story line lyrics with lush harmonies to create an engaging listening experience. The 13 Americana meets Alt. Pop songs rely on a large cast of Los Angeles veteran musicians to create Steinhart's most varied set in his over 20 albums with the bands The Furious Seasons, Smart Brown Handbag and Pop Art. As on The Furious Seasons last album, drummer Bob Gannon takes the helm as producer. Longtime collaborator, brother Jeff Steinhart (bass) and new addition Eric Marin (keyboard/piano/accordion) round out the core of the band. Gannon brings in a host of friends including Stuart Pearson (Through the Woods) and Tyra Juliette (Jeff Lynne, Demi Lovato) to create lush background harmonies and Lee Thornburg (Tower of Power, Supertramp), to add horns.
On the song Understood Steinhart sings about a man who is jilted by an old friend only to shoot him and prepare for the consequences. A ten-person chorus chants in the background of this murder ballad as the subject is hauled off to the gallows. The song Full Disclosure features a subtle ska rhythm while the subject of the song tells a middle aged love story, "What's the point in looking back/ I'm a couple years shy of my first major heart attack/ But with you on my arm/ We could take this world on."
Bad Man uses 12 string guitar, sultry organ and a stripped down feel to tell the story of a man who is tired of being the good guy with his young crush, "I wish I had what it takes/To break your young heart/It should be quick, it should be easy/It's so eager to be torn apart/But I do not have it in me to be truly mean/Even sh** faced drunk I'm happy and I'm clean.
"My Love Is Strong" was recorded at Pacifica Studios and engineered by Glenn Nishida. "My Love is Strong" marries inventive pop songwriting with rich vocal and instrumental backing to create a gem of a record.
Learn more about the band by visiting http://www.thefuriousseasons.com
"David Steinhart's been a perennial cottage industry goldmine for those who carry torches for soft, finely crafted, windswept pop. David writes and sings warm, literate, sober, preoccupied folk pop, always well-crafted..." Jack Rabid/The Big Takeover
"David is still one of my nominations for best relationship lyricist, but he's become one of the rare ones to let adulthood and marriage inform songs that would previously have capitalized on failure and youth." The War Against Silence
Press contact: Alan Bates thefuriousseasons(at)gmail(dot)com 213-361-7450