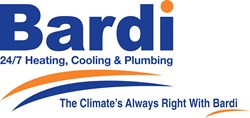 Our technicians are really looking forward to seeing just how old some of these furnace units are.
Atlanta, GA (PRWEB) November 02, 2013
Atlanta HVAC and furnace repair service, Bardi Heating and Air, announces a new contest searching for the most ancient working home furnace in Atlanta. The contest began on Wednesday, October 30 and will end Sunday, December 15, 2013. Bardi is offering the grand prize winner a $5000 energy-efficient furnace installed free of charge by their skilled technicians. Bardi will announce the grand prize winner on January 6, 2014.
The contest is running on Bardi's website and is promoted via email and on their social media sites as well. To enter, contestants must find the nameplate on their furnace showing the make, model and the unit's serial number, which is used to determine its age. To qualify, units must be at least 10 years old and there is a limit of one entry per household. Bardi will then contact winners and request a photo of the furnace to verify its age and information. Contestants may enter the contest by completing an entry form on Bardi's homepage.
All qualifying entrants who did not win the grand prize will receive either a $49 Heating and Plumbing Inspection (valued at $159) or the installation of a free germicidal UV light with the purchase of a new furnace. Germicidal UV lights are installed in furnaces or heat pumps and produce high-intensity UV rays, killing bacteria and microorganisms that aggravate allergies, asthma and cause respiratory illnesses. This air purification system is valued at $499. Qualifying entrants will also be announced on January 6, 2014.
"We're excited to see all the different styles of furnaces that people submit," said Bardi's Residential General Manager Gresham Ard. "Our technicians are really looking forward to seeing just how old some of these furnace units are!"
Bardi Heating and Air is a family-owned HVAC and plumbing company in Atlanta. Founded in 1989 by Alex and Susan Bardi, the company has been providing the Atlanta area with quality HVAC services for almost 25 years. Bardi also offers plumbing repairs and services, and is home to an experienced management team as well as an outstanding team of NATE certified technicians, whose number one priority is to keep their customers satisfied by "always, always, always doing the right thing." For more information about the contest, visit http://bardi.com/EnterBardisOldestWorkingFurnaceContest-127.