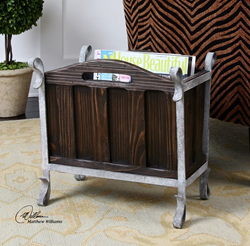 Investing in a good magazine rack can make a huge difference in the overall appearance of a living space; the nicer the rack looks, and the more magazines it can hold, the tidier and and less cluttered the living room will feel.
(PRWEB) March 02, 2015
HomeThangs.com – the Online Home Improvement Store has made their goal to deliver the right product to the consumer. With that in mind, shopping and home design tips, as well as special product selections are being introduced.
Magazines are the most insidious kind of clutter: just a few can make for a tasteful coffee table display, but week by week and month by month, they tend to pile up, and can quickly turn into an eyesore. Stuffing them all into a bargain bin magazine rack is a simple way to get a big collection of magazines out of sight and out of mind, but it's a missed opportunity. HomeThangs.com has introduced a guide to stylish, designer magazine racks to help integrate that big collection of magazines into a room's decor.
Wire or plastic magazine racks will get the job done, but they can be every bit as unsightly as a haphazard stack of magazines left out on the table. Designer magazine racks tend to be a bit more expensive, but high quality wood or metal pieces will look much more at home in a living space or entryway. It's also possible to incorporate magazine racks into accent furniture like side tables or coffee tables. This is a particularly good way to streamline a room, since it doesn't require adding any extra furnishings.
While conventional magazine racks are fairly small, simple, and plain, designer models come in a whole range of sizes, shapes, and styles, from modern and petite to traditional and very large, and anywhere in between. These types of magazine racks are more like an accessory than a necessity, and feel like an organic part of the room's decor rather than an add-on.
For more ideas about choosing a designer magazine rack, check out the full article here.
HomeThangs.com is not only a home improvement superstore, it also provides expert design tips and a comprehensive shopping guide, taking the ideas from professional interior designers, and offering tips to the consumers on how to pick the products to best suit their needs.