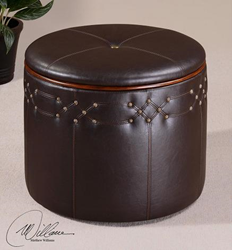 Ottomans really shine in smaller living rooms, where even a small coffee table can really close off the living area and storage space is at a premium.
(PRWEB) December 10, 2013
HomeThangs.com – the Online Home Improvement Store – has made their goal to deliver the right product to the consumer. With that in mind, shopping and home design tips, as well as special product selections are being introduced.
Kicking back in a comfy chair after a long day is one of life's sweetest little rewards. A simple recliner will get the job done, of course, but old fashioned ottomans add a touch of sophistication to a living space. Better still, the best ones can even do double duty, providing storage as well as a cushy foot rest. HomeThangs.com has introduced a guide to storage ottomans with stylish exteriors that are packed full with totally hidden storage.
With some storage ottomans, the crease between the lid and the body of the ottoman is so seamless that it's practically invisible. Depending on the size, the lid is usually either disguised as a cushion or, for a larger ottoman, attached via a hinge that's often further hidden under a layer of flexible upholstery that's invisible except on a very close inspection.
Storage ottomans are great for storing linens, like blankets, throw pillows, seasonal throws, or even a set of sheets for an unexpected overnight guest. But they can also be used for just about any type of item that would be convenient to have at hand in the living room, but that isn't meant for display – DVDs, dog toys, kids' toys, gaming controllers, or just about any other small item.
It's true that ottomans of any stripe don't play particularly well with coffee tables. This depends a little on the size and layout of the living room, of course, but generally speaking for a coffee table to be useful, it probably needs to occupy approximately the space as an ottoman. But ottomans really shine in smaller living rooms, where even a small coffee table can really close off the living area and make it tough to move around – to say nothing collecting junk. In a larger living room, consider pairing an ottoman with a high backed accent chair rather than the sofa, and offsetting it slightly to one side of the room. A sufficiently flat, smooth ottoman of any size can even stand in for a slightly squishy coffee table in a pinch.
Now, storage ottomans aren't without their drawbacks, not the least that they tend to be a little stockier, though. The more storage they have, the less leg they'll have, which means even smaller ones can have a rather hefty appearance compared to leggier models that don't have built in storage.
Maybe the best thing about storage ottomans is the sheer variety of sizes, shapes, styles, and materials that they're available in. Of course, the basic box-with-a-cushiony-lid design stays more or less the same from one model to the next, but ottomans can be square, round, oval, big or small, solid or patterned, traditional or modern, or in just about any kind of upholstery.
To see more beautiful, functional storage ottomans, read the full article here, or check out more great designs from Uttermost.
HomeThangs.com is not only a home improvement superstore, it also provides expert design tips and a comprehensive shopping guide, taking the ideas from professional interior designers, and offering tips to the consumers on how to pick the products to best suit their needs.