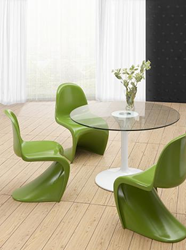 Mixing and matching chairs in different designs and colors immediately turns a dining set into a major visual focal point, and can make the space seem more inviting.
(PRWEB) December 22, 2013
HomeThangs.com – the Online Home Improvement Store has made their goal to deliver the right product to the consumer. With that in mind, shopping and home design tips, as well as special product selections are being introduced.
These days, many homeowners are taking a more eclectic approach to their furnishings. This is especially true in the kitchen and dining room, where many homeowners are mixing and matching colorful retro dining chairs to create a cheery, totally custom look. HomeThangs.com has introduced a guide to a few common styles for getting a unique, chic look.
Traditionally, a dining table and chairs are purchased as a complete set, with one or maybe two types of chairs designed to closely match the style of the table. These are generally made in a wood finish (or, for a kitchen table, a simple white or black paint), and have a fairly formal, unified appearance. But as kitchens have become a more casual gathering space, and the formal dining room itself has fallen out of vogue, this type of traditional dining room furniture has fallen somewhat out of favor.
On the simplest level, it's a lot less likely for most people these days to throw a very formal get together. Hosting a big event is more likely to mean a casual gathering among friends than an occasion to bring out the fine china, and this type of gathering can feel out of place in a very rigid, traditional formal dining room. Which is part of the reason those big tables have largely been relocated to wide, open kitchen rather than the separate formal dining room.
Throwing out conventional high-backed formal dining chairs and replacing them with more casual seating is an obvious next step. Retro dining chairs, especially from the early 1900s up to midcentury designs are smaller and simpler, with uniquely designed backs and legs that merge comfort and style. When done in a bright, cheerful color, they immediately become a much friendlier looking, more casual dining set.
Mixing and matching different designs and colors immediately turns a dining set into a major visual focal point of a large kitchen, and can make the space seem more inviting. While having a full set of the same chairs can give a dining area a unified look, choosing several different, distinctive chairs makes it feel more personalized.
There's tons of room to play with this trend, too, specifically in how many different types of chairs and how many different colors are included in the dining space. The more colors or different chair styles, the more eclectic the look, while choosing a single color, type of chair, or even several shades of the same color can unify the look. Keeping the rest of the room fairly neutral or white can help especially colorful chairs stand out and keep a lot of colors from looking too busy.
For years now thrifty decorators have been snapping up retro dining chairs from flea markets and thrift stores and giving them some much needed TLC and a new coat of paint. But this trend has gone mainstream in a big way, and manufacturers like Zuo Modern and ItalModern have responded by making reproductions of some of the most popular vintage chair styles available in a wide variety of bold, beautiful colors. That this is a look that's easy and affordable to get for someone who doesn't want to hunt for flea market finds.
To see more colorful retro dining chairs in action, check out the full article here.
HomeThangs.com is not only a home improvement superstore, it also provides expert design tips and a comprehensive shopping guide, taking the ideas from professional interior designers, and offering tips to the consumers on how to pick the products to best suit their needs.