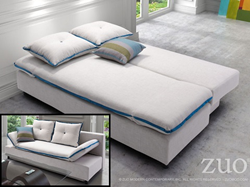 Many contemporary futons are indistinguishable from "real" sofas in terms of appearance and comfort, but have the added benefit of being able to turn into a bed.
(PRWEB) February 10, 2015
HomeThangs.com – the Online Home Improvement Store has made their goal to deliver the right product to the consumer. With that in mind, shopping and home design tips, as well as special product selections are being introduced.
Futons have a bad reputation as furniture that's reserved for college kids and first-time apartment dwellers – something that should be replaced with a "real" sofa as soon as possible. But many modern futons and sleeper sofas are actually quite stylish. In fact, some of them are nearly indistinguishable from those coveted "real" sofas. HomeThangs.com has introduced a guide to a few stylish, functional sleeper sofas, and why they deserve a place in a contemporary living room.
Part of why futons are so derided is that they're obviously designed to do two things, and many conventional models don't do either very well, with lumpy mattresses that don't quite fold enough to sit on, and aren't terribly comfortable to sleep on. But modern sleepers are designed to switch between functions seamlessly and inconspicuously, with built in cushions and innovative folding parts that are both more comfortable to use, and much less visible when the futon is in sofa form. Some of the more innovative designs even allow the futons to be partially adjusted for more comfortable lounging even when a full sized bed isn't needed.
Even for those who don't live in small spaces, having a futon or sleeper sofa is a great way to add functionality without sacrificing space. Even just adding a convertible accent chair rather than a full futon makes it possible to comfortably house an overnight guest without having to dedicate a full bed or bedroom to the purpose.
To see more innovative contemporary futon designs, check out the full article here.
HomeThangs.com is not only a home improvement superstore, it also provides expert design tips and a comprehensive shopping guide, taking the ideas from professional interior designers, and offering tips to the consumers on how to pick the products to best suit their needs.