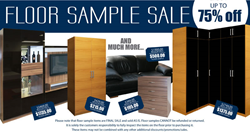 ...recommends shopping early for the best selection...
Passaic, NJ (PRWEB) August 23, 2014
Contempo Space, manufacturer and retailer of custom furniture, has announced on their website and email newsletter that they have begun selling off existing furniture pieces from their showroom floor at discounts as deep as 75% off normal retail pricing.
The furniture has been put on clearance to make space for furniture pieces manufactured with new finishes and colors the company introduced this year, also suggesting that additional finishes can be expected in the near future.
A wide variety of modern television furniture is included on the list of discounted items, ranging from TV stands and console units to larger wall units and entertainment centers with special storage cabinets and unique designs.
Also on the roster are several types of contemporary bedroom furniture. These include not only beds themselves, but also dressers, chests and nightstands, as well as several free standing wardrobe closets and cabinets.
The announcement at http://www.contempospace.com/contempo-space-blog/furniture-sale-floor-samples-huge-discounts/ advises customers that the deeply discounted floor samples are clearance items and will be sold as is, and also recommends shopping early for the best selection, as each piece of furniture is unique.
About Contempo Space:
Contempo Space has been specializing in custom case goods and home furnishings for 30 years, offering modern lines of bedroom furniture, living room furniture, office furniture and more. Design consultants and craftsmen work with customers to create the perfect piece for any space, hand-crafted to meet the customer's specific needs.
To learn more about Contempo Space, the one-of-a-kind company that still puts quality first and still designs and manufactures furniture locally in Passaic, NJ, USA, visit http://www.contempospace.com, call 888-266-1280 or come on down to the showroom at 220 Passaic Street, Passaic, NJ.