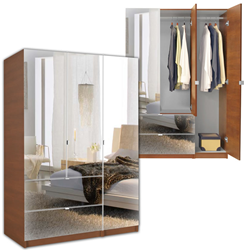 ...sometimes a couple mirrored wardrobe armoires and nightstands are just what he doctor ordered.
Passaic, NJ (PRWEB) June 21, 2014
For New Jersey furniture company Contempo Space, helping customers make well-imformed decisions about furniture is nothing new.
"There are a lot of questions and decisions that come with most furniture purchses," affirms Danielle Mancini, a representative of Contempo Space. "In our showroom, there's a four door mirrored armoire that has a history of getting people wondering about mirrored furniture in general."
The most common questions are in regard to cleaning the mirrors and if there is a high likelihood of breakage when a piece of furniture has mirrored doors or mirrored drawers.
The new article on the Contempo Space website addresses each of these concerns, clarifying that in these ways mirrored furniture can actually be superior to some other materials.
The article is available at http://www.contempospace.com/contempo-space-blog/mirrored-furniture-reasons/
In addition to the most commonly asked questions being addressed, the article makes note of several other beneficial effects of mirrored furniture ownership.
"Furniture is an investment," says Mancini. "Think about how much time people spend shopping for something like a car, and then consider that a lot of times furniture is going to be around for longer than that car.
"It's important to get it right. For some families and their style at home, that means plain white furniture. For others it's bold colors and flashy handles, and sometimes a couple mirrored wardrobe armoires and nightstands are just what the doctor ordered."
Contempo Space has spent decades perfecting the art of designing and creating mirrored wardrobes, cabinets, chests, entertainment centers, wall units and other furniture. In fact, they have the ability to customize nearly every piece of furniture they offer with mirrored doors, drawers or accessories.
About Contempo Space:
Contempo Space has been specializing in custom case goods and home furnishings for 30 years, offering modern lines of bedroom furniture, living room furniture, office furniture and more. Design consultants and craftsmen work with customers to create the perfect piece for any space, hand-crafted to meet the customer's specific needs.
To learn more about Contempo Space, the one-of-a-kind company that still puts quality first and still designs and manufactures furniture locally in Passaic, NJ, USA:
Visit http://www.contempospace.com, call 888-266-1280 or come on down to the showroom at 220 Passaic Street, Passaic, NJ