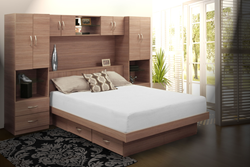 Reviewing and acting on customer suggestions has always been an important part of the way [Contempo Space] does business.
Passaic, NJ (PRWEB) May 20, 2014
If it seems like only a few months have passed since New Jersey's favorite furniture company expanded their palette with a half dozen hues, that's because it's true.
The design and sales staff at Contempo Space review customer sentiment regularly, and use what they learn from customers to improve their furniture offerings on a frequent basis.
Most recently, they learned that there was a wood tone that customers wanted, and that at least a couple customers would like to see pink furniture for sale.
"Our customers are like family in a lot of ways," remarks Danielle Mancini of Contempo Space. "Everything we do here in the showroom and next door in the factory has a personal touch to it. Each piece of furniture is different, made specifically for that one person or family."
Reviewing and acting on customer suggestions has always been an important part of the way the company does business.
"It's a funny story how we ended up with the new berry pink glass," remembers Mancini. "We have added quite a bit of new technology this year to help us see what features are most popular and where we can improve even more. Even so, it ended up being a conversation where two of our people realized they had each spoken to a customer about pink furniture."
"One customer had joked that the only color we don't have on our sample wall is pink, and another had recently called in and asked about the possibility of getting something in pink as well."
By the end of the week, the team was working on making pink glass; this can now be ordered on all bedroom furniture, wall units, entertainment centers, and office furniture.
"Adding the natural walnut finish was more a part of the natural progression," Mancini says. "With the wood tones, we are always trying to pay attention to what people are asking about and matching that with what is available through our suppliers.
About Contempo Space:
Contempo Space has been specializing in custom case goods and home furnishings for 30 years, offering modern lines of bedroom furniture, living room furniture, office furniture, and more. Design consultants and craftsmen work with customers to create the perfect piece for any contemporary space, hand-crafted to meet the customer's specific needs.
To learn more about Contempo Space, the one-of-a-kind company that still puts quality first and still designs and manufactures furniture locally in Passaic, NJ, USA.
Visit http://www.contempospace.com, call 888-266-1280, or come on down to the showroom at 220 Passaic Street, Passaic, NJ.