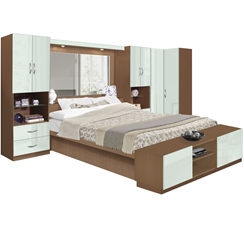 It's all about storage.
PASSAIC, NJ (PRWEB) September 30, 2014
Each style of bed frame has its own benefits. How often those benefits extend beyond visual appeal and include practical, tangible solutions to real life problems like storage is a question that begs answering.
In its most recent publication, Contempo Space lists how platform style beds are able to take contemporary furniture design to a place that includes beautiful styling but also offers several practical advantages over ordinary beds.
"It's all about storage," reports Contempo Space's Danielle Mancini. "We list it out on the website into the different ways this can be accomplished, but it really boils down to one simple idea.
"We all need a bed, and we all struggle to find more efficient storage space. Those two things can come together in a modern, beautiful way."
A simple bed can have drawers added underneath the mattress or have an extended footboard, for example.
Other choices for adding storage cabinets, shelves and drawers to a platform bed are discussed in the article on the Contempo Space website at http://www.contempospace.com/contempo-space-blog/platform-beds-6-good-reasons/
About Contempo Space:
Contempo Space has been specializing in custom case goods and home furnishings for 30 years, offering modern lines of bedroom furniture, living room furniture, office furniture and more. Design consultants and craftsmen work with customers to create the perfect piece for any space, hand-crafted to meet the customer's specific needs.
To learn more about Contempo Space, the one-of-a-kind company that still puts quality first and still designs and manufactures furniture locally in Passaic, NJ, USA:
Visit http://www.contempospace.com, call 888-266-1280 or come on down to the showroom at 220 Passaic Street, Passaic, NJ