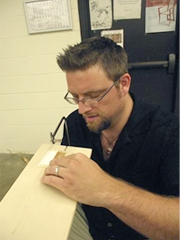 We offer our customers free estimates and free consultation on any family heirlooms they are worried about.
Edina, MN (PRWEB) January 27, 2015
Da Vinci Restoration repairs and refinishes furniture, conserves oil paintings, and specializes in restoring family heirlooms. Their staff is classically trained in the Smithsonian principles of restoration and conservation from the National Institute of Wood Finishing, the only accredited furniture restoration program in the nation. They offer museum-quality restoration with a new painting restoration machine and trained painting restoration artists.
"Our painting restoration artist was trained at the Palazzo Spinelli Firenze in Florence, Italy. Her expertise allows her to clean and re-varnish paintings, fix tears, restore damage, and make your artwork look like new again," says owner Daren Steneman.
Da Vinci Restoration offers free estimates and was recently featured in Edina Magazine. Da Vinci expanded into a 2500-square-foot warehouse space in Pakwa III in January and has now doubled their employee count since.
"We offer our customers free estimates and free consultation on any family heirlooms they are worried about. We are trained in the highest levels of conservation and restoration and offer this knowledge base to our customers,"
For more information and to find the Angie's List discount as well as Edina Magazine's feature on Da Vinci Restoration:
Da Vinci Restoration
5247 Edina Industrial Blvd,
Edina MN 55439
612-518-3626
http://www.davincirestoration.com
http://www.angieslist.com/companylist/us/mn/edina/da-vinci-restoration-reviews-6192531.htm
http://edinamag.com/restoring-memories
JGM Properties owns and manages the Pakwa Buildings, as well as 23 suburban Minneapolis warehouse, and office space properties. Founded in 1980, JGM Properties works with over 300 tenants, including Da Vinci Restoration to provide office, warehouse, and retail space for lease in Minnesota.
"By moving into the 2,500 square foot space we are renting from JGM, Da Vinci Restoration now has a larger space and a more convenient location to continue providing our customers with the best quality furniture and oil painting restoration services," says Steneman.