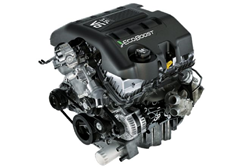 Our dealers that supply the used Ford engines that are featured on our website are all based in the United States to make deliveries easier
Columbus, OH (PRWEB) May 15, 2015
Ford introduced its Ford Fusion in the year 2005 as a mid-size 4-door vehicle model to consumers in the United States. A popular motor block for this vehicle is now for sale to purchasers of auto parts through the CarPartsLocator.com website. It is now possible to buy Fusion 2.5L used car engines online at http://www.carpartslocator.com/fusion-2-5-i4-engine-used.
The complete builds that are made available now include the Duratec 25 versions that are available for the 2010 to current model year Fusion vehicles. Owners of automobiles and vehicle mechanics can access the in stock units and review pricing while using the CPL revised web search system now online.
"Our dealers that supply the used Ford engines that are featured on our website are all based in the United States to make deliveries easier," said on Car Parts Locator source.
The 152 cubic inch displacement Duratec 2.5L engines that are now in stock range between 156 horsepower and 175. The VIN number of a vehicle can be researched and compared by a consumer with intent to purchase the units at the CarPartsLocator.com website. This process can ensure a clean install without compatibility problems.
"The inventory of Duratec and Ecoboost motors that can be purchased this year is shipped with a third-party warranty plan that is honored by each fulfillment company," said the source.
The CarPartsLocator.com website has been upgraded with new features for 2015 that can help any person to find more than used condition vehicle engines. Aside from the 2.5L Fusion builds in stock, transmissions and other compatible parts can be located using the supplier search tool now available.
About CarPartsLocator.com
The CarPartsLocator.com company has constructed its nationwide junk auto parts location system this year and has opened this tool to consumers. The company is listing close to a million components that are on sale daily. The CarPartsLocator.com company has contracts with local scrap yards to provide consumer shipments for placed orders that originate from its web portal.