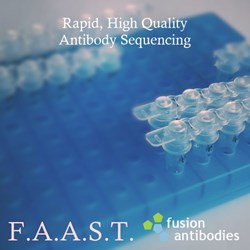 We are keen to get started with this new service and look forward to offering some extra incentives to the first few customers!
Belfast, UK (PRWEB UK) 30 January 2014
UK-based contract research organisation Fusion Antibodies have today announced a new service to extend its world-class portfolio of Antibody Sequencing service options. Fusion Antibodies have previously offered three guaranteed sequencing services which range from variable domain only to full length antibody sequencing. Although Fusion Antibodies standard service options include aberrant light chain identification, CDR identification, a minimum 5-strong consensus and a detailed technical report, some clients do not require this level of detail. Fusion Antibodies hopes the F.A.A.S.T service will fill this gap in the market and allow wider access to high quality antibody sequencing and result in more novel drugs entering the clinic faster.
Richard Buick, Chief Scientific Officer at Fusion Antibodies commented: "Fusion Antibodies have went from strength to strength recently and the announcement of this new service marks an important milestone in the evolution of Fusion Antibodies to meet the needs of our customers. We aim to add real value to our client's projects and hope this new service allows Fusion Antibodies to grow and develop even further".
The new service is available from today and Fusion Antibodies Business Development executive Andrew Glover added: "We are keen to get started with this new service and look forward to offering some extra incentives to the first few customers!" More details about the service are available on the company's website (http://www.fusionantibodies.com/sequencing) or by contacting a member of the Fusion Antibodies team.
About Fusion Antibodies
Fusion Antibodies; a UK based life science company, with innovative technologies and world-class expert services for antibody drug discovery, are specialists in production of High Quality Humanized Monoclonal Antibodies and Antibody Engineering Projects. With 12+ years of experience in the medical research industry, including two Antibodies in clinical and pre-clinical trials, Fusion Antibodies have extensive experience in accelerating therapeutic drug research towards the clinic.
Fusion Antibodies has the knowledge and expertise to build and deliver a bespoke package of the services you need to achieve outstanding results. They provide Royalty Free Antibody Humanization of Monoclonal Antibodies and using their next generation in silico CDRx™ technology, they have modernized the traditional CDR grafting technique. Fully humanized monoclonal antibodies are an essential step in the progression of therapeutic drugs to the clinic and the in-house expertise at Fusion Antibodies ensures its success.
Visit their website at http://www.fusionantibodies.com to find out more.