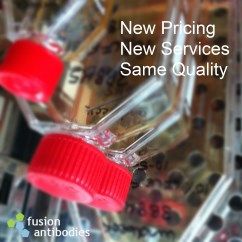 We are proud to offer more flexibility to our clients while still offering the same great level of service.
Belfast, UK (PRWEB UK) 26 March 2014
UK based contract research organisation Fusion Antibodies have today announced a revision to the way the company offers its Antibody Production services to its clients. Historically Fusion Antibodies has offered a complete and thorough package for developing custom monoclonal antibodies. The new flexible options will allow Fusion's clients more choice in the aspects of the services they would like included in their project and as a result allow greater control of the costs and timescales.
Paul Kerr, Managing Director of Fusion Antibodies commented, "We are proud to offer more flexibility to our clients while still offering the same great level of service. The move will open doors to lower cost options for a wider range of clients including the SME and academic markets."
Andrew Glover, Business Development Executive for Fusion Antibodies added, "Following feedback from our customers we have decided to modularise our Monoclonal Antibody Production services and offer a core service with the option to add different additional services such as adaption to supplement free media."
The new service is available from today and more details about the service are available on the company's website (http://www.fusionantibodies.com) or by contacting a member of the Fusion Antibodies team.
About Fusion Antibodies
Fusion Antibodies; a UK based life science company, with innovative technologies and world-class expert services for antibody drug discovery, are specialists in production of High Quality Humanized Monoclonal Antibodies and Antibody Engineering Projects. With 12+ years of experience in the medical research industry, including two Antibodies in clinical and pre-clinical trials, Fusion Antibodies have extensive experience in accelerating therapeutic drug research towards the clinic.
Fusion Antibodies has the knowledge and expertise to build and deliver a bespoke package of the services you need to achieve outstanding results. They provide Royalty Free Antibody Humanization of Monoclonal Antibodies and using their next generation in silico CDRx™ technology, they have modernized the traditional CDR grafting technique. Fully humanized monoclonal antibodies are an essential step in the progression of therapeutic drugs to the clinic and the in-house expertise at Fusion Antibodies ensures its success.
Visit their website at http://www.fusionantibodies.com to find out more.