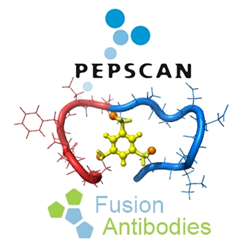 Pepscan's technology is the best we have seen and we know the fantastic team and world-class technologies provided by Pepscan will add real value for our clients and support the range of services offered by Fusion Antibodies
Belfast, UK & Lelystad, the Netherlands (PRWEB UK) 24 February 2014
UK based contract research organisation Fusion Antibodies and Dutch based biotechnology company Pepscan, a leading provider of epitope mapping services, have today announced a partnership to offer Pepscan's Precision Epitope Mapping platform to Fusion Antibodies clients. The partnership will have great benefits for Fusion Antibodies clients as it will offer them an integrated end-to-end solution for the pre-clinical development of antibodies. Fusion Antibodies can now not only provide Antibody Engineering, Humanization and development of high yielding stable cell lines but a range of high quality characterisation studies through their expert partners.
Paul Kerr, Managing Director at Fusion Antibodies commented: "Fusion Antibodies are proud to announce that we have selected Pepscan to supplement our portfolio of services with their CLIPS epitope mapping platform. Pepscan's technology is the best we have seen and we know the fantastic team and world-class technologies provided by Pepscan will add real value for our clients and support the range of services offered by Fusion Antibodies."
Wim Mol, Chief Executive Officer at Pepscan added: "We are very pleased to participate in this integrated development solution via the alliance with Fusion Antibodies. Our Precision Epitope Mapping technology is ideal for therapeutic antibodies. Many of our leading pharma customers use it to map their most promising development candidates, several of which recently received FDA breakthrough status."
CLIPS Precision Epitope Mapping uses arrays of conformationally constrained CLIPS peptides. This allows for the detection of conformational or discontinuous epitopes which occur with the vast majority of therapeutic antibodies and which often cannot be elucidated with traditional linear mapping. Precision Epitope Mapping offers unrivalled single residue resolution and can determine the contribution of individual amino acids to the binding of an antibody. As the arrays can be re-used multiple times, it is the method of choice for comparative mapping of sets of antibodies, such as during the humanisation process.
Both companies have recently finalized a joint study with the well established CLIPS technology confirming that the platform is ideally suited to map candidate humanized antibodies and demonstrate epitope equivalence to the murine parent. The CLIPS platform significantly outperforms standard epitope mapping techniques in this respect. Pepscan's technology will allow Fusion Antibodies' humanization clients to use epitope mapping as a tool to select the optimal humanized antibody to develop for clinical applications.
About Fusion Antibodies
Fusion Antibodies; a UK based life science company, with innovative technologies and world-class expert services for antibody drug discovery, are specialists in production of High Quality Humanized Monoclonal Antibodies and Antibody Engineering Projects. With 12+ years of experience in the medical research industry, including two Antibodies in clinical and pre-clinical trials, Fusion Antibodies have extensive experience in accelerating therapeutic drug research towards the clinic.
Fusion Antibodies has the knowledge and expertise to build and deliver a bespoke package of the services you need to achieve outstanding results. They provide Royalty Free Antibody Humanization of Monoclonal Antibodies and using their next generation in silico CDRx™ technology, they have modernized the traditional CDR grafting technique. Fully humanized monoclonal antibodies are an essential step in the progression of therapeutic drugs to the clinic and the in-house expertise at Fusion Antibodies ensures its success. Visit their website at http://www.fusionantibodies.com to find out more
About Pepscan
Pepscan is a world leader in protein mimicry, applying its profound understanding of peptides for a range of specialty peptide products and services as well as for the discovery of new therapeutic drugs. Pepscan's proprietary CLIPS technology enables stabilization of peptides in a desired constrained conformation. Mapping of conformational or discontinuous epitopes has dramatically improved through the use of arrays of constrained CLIPS peptides, and CLIPS Precision Epitope Mapping is nowadays considered the standard for epitope characterization.
Pepscan's drug discovery focuses on its bicyclic '2-CLIPS' peptide platform, a new class of biotherapeutics, providing antibody-like affinity and selectivity in a small synthetic peptide molecule. Pepscan is applying its constrained peptides discovery platform in collaborations with partners against targets of their interest and has various ongoing collaborations with leading pharmaceutical companies to develop novel therapeutics. Pepscan is a privately held company and based in Lelystad, The Netherlands. For more information visit http://www.pepscan.com