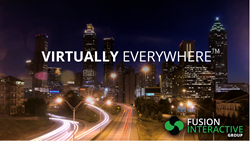 "We could not be happier to have Fred White and the Fusion Interactive team move their HQ to the great city of Atlanta and join our community!" - Atlanta Tech Village
Atlanta, GA (PRWEB) September 08, 2015
Fusion Interactive Group, the leader in virtualized communication and computing technology, today announced that they have relocated their headquarters to Atlanta, and will be growing their team there in the near future. Fusion was accepted into membership at Atlanta Tech Village, a community of innovative and disruptive tech startups. This move is part of Fusion's ongoing growth, and will allow the company better access to top talent, strong partners, and collaboration with other innovative technology businesses.
"We couldn't be more excited about this move," said Fred White, CEO of Fusion Interactive Group. "Being a part of Atlanta Tech Village and Atlanta, generally, is very closely aligned with who we are as a company and a culture. Several of our people have strong ties to the technology network in Atlanta, and we believe this is the right place for us to continue our growth and expansion. We look forward to working with other future-thinking companies and technology leaders that are members and supporters of the Village."
From the team at Atlanta Tech Village, "As one of the fastest growing technology startup centers and coworking communities in the US, the Village is dedicated to fostering innovation, encouraging collaboration and driving economic development in the Atlanta community and beyond. We could not be happier to have Fred White and the Fusion Interactive team move their HQ to the great city of Atlanta and join our community!"
About Fusion Interactive Group:
Fusion Interactive Group is the trusted leader in innovative virtualized technologies, including a wide range of communication and computing capabilities enabling dynamic businesses from SMBs through multi-national enterprises. For more information, visit fusionig.com.
About Atlanta Tech Village:
Atlanta Tech Village is a community of technology innovation powered by a 103,000 square foot building dedicated to fostering the growth of new, disruptive tech startups. There are currently over 260 companies housed in the Village, and 900+ members. For more information, visit atlantatechvillage.com.