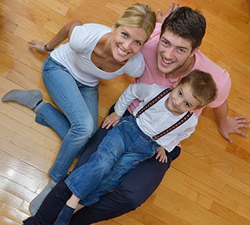 "Minneapolis has experienced a solid inflow of Millennials and has a growing inventory of homes for sale." - Lawrence Yen, NAR's Chief Economist
Minneapolis, Twin Cities Minnesota (PRWEB) August 07, 2014
National housing thought leaders at National Association of Realtors® (NAR) are forecasting that the whims and wishes of Millennial age homebuyers will be a reckoning force in the future of the housing market. Young adult home buyers have already proved they merit the attention of home sellers. Predictions are that Millennial homebuyers will boost the Twin Cities housing market. Few are entering a wrestling match arguing the muscle of future Twin Cities Millennial homebuyers.
"As would-be home buyers, Millennials are exceptional in that they know what they want," finds Jenna Thuening, owner of Home Destination. "Being raised on the Internet, they quickly gather recommendations and learn from other's home buying experiences. This helps them sort more quickly through a home's features and neighborhood demographics over other age buyer groups. Granted, they may be picky. As our future work force and the buyers who will be able to afford a home loan, they have reason to be."
According to the article, NAR Identifies Best Purchase Markets for Aspiring Millennial Homebuyers, Minneapolis - St. Paul is ideal for first-time homebuyers given the metro's economic growth. The Twin Cities housing market offers home prices that rival many other metros of size. High income earners made the region the second-most affordable housing market in the nation last year; it is also notable that young adults ages 20-34 make up more than one fourth of all new occupants.
NAR chose to limit its research to only leading edge Millennials between the ages of 25-34 for inclusion in this study. The decision was based on the logic that this segment of Millennials are better suited to become future home buyers.
The research confirms the flexibility that Millennials have; they don't mind relocating to a city where job growth is strong and homeownership can be grasped. Austin, Texas and Salt Lake City were called out as the star preforming cities for Millennials due to sustained job growth rates and the appeal of affordable home prices. The study found that 7 of the 10 metro areas that ranked highest are in the Midwest and West. The Minneapolis-St. Paul-Bloomington, MN-WI Metro Area ranked 5th best.
Lawrence Yun, NAR chief economist, announced the latest number for national homeownership rates among young adults under the age of 35: they peaked in 2005 at 43 percent, and tumbled to their lowest of 36 percent in the first quarter of 2014. "Millennials are moving to where job growth is strong and homeownership is more attainable. These markets are well-positioned to soon experience a rise in first-time buyers as the economy improves," states the report.
Millennial homebuyers may be perceived as individuals known for not taking life too seriously and laughing about the thrills of buying a home without the experience of knowing the responsibilities of homeownership. "In my follow-up conversations after closing and moving into their new homes, younger homebuyers show amazing capabilities and gratitude, states Thuening. "Perhaps they have observed and learned a lot from their parent's disappointments during the housing bust."
About Home Destination - Twin Cities Real Estate:
Home Destination offers a loyal and committed real estate professional service that personally handles all the details of selling or purchasing a Twin Cities home. Highly regarded by peers as a Minneapolis metro expert for over 15 years, gain a skilled representative as guide to make the best possible housing decisions.
Contact:
Jenna Thuening
Web. http://www.homedestination.com
Email. jenna(at)homedestination(dot)com
Tel. 612-396-7832