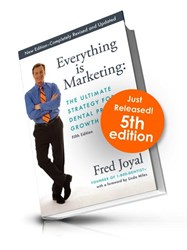 My book is a roadmap for creating effective advertising and promotion strategies for 2014 and beyond.
Los Angeles, CA (PRWEB) February 12, 2014
Futuredontics' founder Fred Joyal has released the 5th edition of his bestselling dental marketing book, "Everything is Marketing: The Ultimate Strategy for Dental Practice Growth." Completely updated for 2014, the new release offers proven strategies to help dentists reap the maximum benefits from today's most important digital marketing channels, including online patient review sites, social media and mobile technology like smartphones and tablets.
In the latest version of "Everything is Marketing," Joyal draws on his 30+ years of industry experience to provide dentists with a clear, step-by-step guide for marketing success in the rapidly evolving digital world. Among its many updates, the 2014 release features an entire new chapter devoted to online marketing. The new content explores topics ranging from why dentists need dynamic websites and how to get reviews on Yelp and Google Places to best practices for monitoring a dentist's online reputation and tips for creating a social media presence that attracts new patients.
Joyal also looks at how Facebook's new Graph Search is revolutionizing the way patients use social media to get "word-of-mouth" dental referrals. Other hot-button topics addressed include the best way to respond to negative reviews, why the popularity of mobile devices is rendering most dental websites obsolete, and what it takes to create an unforgettable patient experience both online and in the office.
"The online marketing world of today is radically different from even a year ago," said Joyal. "Dentists need to adapt to meet the higher expectations of tech-savvy patients. My book is a roadmap for creating effective advertising and promotion strategies for 2014 and beyond."
For a limited time, dental practices can get a complimentary copy of the "Everything is Marketing" by taking a demo of the Futuredontics suite of dental marketing products. Interested dental professionals can learn more by visiting http://www.futuredontics.com/5thedition.
About Futuredontics®
Futuredontics®, parent company of 1-800-DENTIST®, is America's leading provider of dental marketing services & software. Since 1986, the company has been dedicated exclusively to dentistry, developing powerful products and resources that help dentists thrive in the evolving digital world.
The company's flagship product, 1-800-DENTIST, has delivered over 7 million new patient leads to dental practices nationwide. PatientActivator®, their patient communications and online marketing solution, increases production and boosts the practice's online presence with automated appointment confirmations and tools for social media, reviews and much more. ReputationMonitor® helps dentists protect their online reputation – monitoring hundreds of directories, reviews sites and social media platforms, and displaying them all on a single screen. WebDirector® delivers dynamic websites, mobile sites and branded social pages all for one low price. And ReActivation Pro® gets dormant patients back on the practice's schedule. Futuredontics also offers an extensive library of dental marketing resources – including in-depth whitepapers, Webinars and front desk training. With unlimited live customer support, dentistry's best marketing products and the largest dental website in North America, Futuredontics is the proven way for dental practices to grow their patient base and increase production year after year.
Contact: Betsy Roddy, Futuredontics, 310-215-6535
###