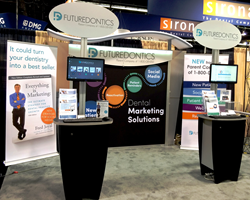 Futuredontics' new branding underscores the true range of services we offer to help dental practices thrive.
Los Angeles, CA (PRWEB) May 21, 2014
Futuredontics®, parent company of 1-800-DENTIST®, rolled out the final stages of its corporate rebranding initiative at "[CDA Presents," the national dental convention hosted by the California Dental Association. The event featured the premiere of new tradeshow booth displays, collateral materials and whitepapers solidifying Futuredontics position as dentistry's premier provider of marketing services.
While the 28-year-old company is best known for 1-800-DENTIST, its flagship new patient leads program, [Futuredontics also offers a complete suite of dental marketing software and services. These include PatientActivator® (patient communication & online marketing), WebDirector® (dental websites & online identity), ReActivationPro® (dormant patient reactivation), and ReputationMonitor® (online reputation management). Attendees at the show were able to take interactive demos of all these products and see how they work together as part of a comprehensive marketing strategy.
"Most dental professionals have come to know us as 1-800-DENTIST thanks to our $50 million consumer advertising campaign," explained Michael Turner, CEO of Futuredontics. "But the reality is, Futuredontics offers [dental practices so much more. It was exciting to have the opportunity to highlight all of our products at CDA."
Futuredontics' new corporate branding underscores the true range of services the company offers to help dental practices thrive in the digital world. In addition to new patient leads and best-in-class marketing services, Futuredontics offers an extensive library of educational resources for dental practices, including marketing whitepapers, live and on-demand webinars, marketing videos and dental industry surveys.
"We felt that a high-profile event like "CDA Presents" offered the perfect venue to remind dentists that we can help them with everything from [dental websites and social media to appointment confirmations and reactivation," Turner continued. "The response to our new branding has been outstanding. Judging from the crowds we saw in Anaheim, dentists are extremely interested in using Futuredontics products to build their practices."
All of Futuredontics products are available individually. Bundle pricing discounts are offered for practices purchasing multiple products. For more information, visit http://www.futuredontics.com
About Futuredontics®
Futuredontics®, parent company of 1-800-DENTIST®, is America's leading provider of dental marketing services & software. Since 1986, the company has been dedicated exclusively to dentistry, developing powerful products and resources that help dentists thrive in the evolving digital world.
The company's flagship product, [1-800-DENTIST, has delivered over 7 million new patient leads to dental practices nationwide. PatientActivator®, their patient communications and online marketing solution, increases production and boosts the practice's online presence with automated appointment confirmations and tools for social media, reviews and much more. ReputationMonitor® helps dentists protect their online reputation – monitoring hundreds of directories, reviews sites and social media platforms, and displaying them all on a single screen. WebDirector® delivers dynamic websites, mobile sites and branded social pages all for one low price. And ReActivation Pro® gets dormant patients back on the practice's schedule. Futuredontics also offers an extensive library of dental marketing resources – including in-depth whitepapers, Webinars and front desk training. With unlimited live customer support, dentistry's best marketing products and the largest dental website in North America, Futuredontics is the proven way for dental practices to grow their patient base and increase production year after year.
Contact: Betsy Roddy, Futuredontics, 310-215-6535