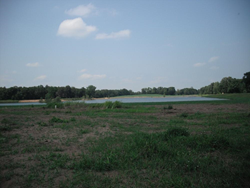 Bonduel, WI (PRWEB) September 16, 2014
Real estate investors and high-income earners take note: a breathtaking 104-acre country property that is full of endless amounts of wildlife has entered the market in the town of Bonduel, Wisconsin, at W 4618 Wildlife Road (zip: 54107). This is an incredible site to build a dream home, with a beautiful private setting that includes a huge man-made lake with islands, a creek, trails through the woods, and a road around the lake. There is already a 24'x48' garage on the property for every conceivable toy.
The property is listed at $1,100,000 with an opening bid of $875,000 if no offer is received before the September 27 auction.
Though the naming of the town of Bonduel can be traced back to the Reverend F. Bonduel, a priest and Jesuit missionary from nearby Green Bay, the founding of Bonduel occurred in 1860 after the Homestead Act gave land to settlers who agreed to build a house and farm the land. Bonduel was incorporated as a village in 1916, and today has expanded to feature several parks and other municipal buildings (e.g., a library).
The highly motivated sellers of this property have indicated that they plan to entertain early bids and offers. Buyers are most likely already researching this property and coming to decisions about whether to make a purchase, so potential buyers are advised to act fast.
Interested parties should visit micoley.com to find more photos and details about the property, or by visiting in person and performing an inspection on site, which is highly recommended. (866) 371-3619 is Micoley.com's information line. Additionally, Micoley.com features a live chat service through which questions can be answered.
About Micoley.com:
Green Bay, Wisconsin-based Micoley.com is a real estate marketing firm specializing in project focused auctions of bank-owned properties throughout the United States. The Micoley.com approach to real estate marketing tailors each auction plan to the client's individual needs. The site is constantly being updated for the benefit of buyers, as large-scale auction events are held monthly, and new properties are added daily. Auctioneer Firm: Micoley.com LLC #432-53. Auctioneer: Wade Micoley # 2647-052. Broker Firm: WM Enterprises, Inc. #835181-91. Broker: Wade Micoley #43427-90.