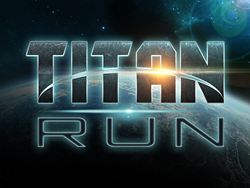 Race, upgrade and battle giant air ships against various competitors on the Titan Run!
(PRWEB) April 08, 2014
The video game industry is highly competitive, with thousands of gaming products vying for supremacy in the market. Jason Ried of South Africa, however, believes they can create the ultimate video game.
With cutting-edge technology and high fidelity visuals, this race through time is a unique experience for any gaming enthusiast.
It's called Titan Run and features a combination of elements never seen before. Titan Run is a race against other ships at blinding speed, progressing through different eras with varying propulsions systems.
"It's a high-intensity experience with powerful visuals," says Ried, whose company, Fuzzy Logic are developing the game. "You get a feeling of danger and excitement as you wage war against the other ships. Battles will be short, intense and involve high speed, quick reflexes and tactical decisions."
The ships and opponents change over time, making the race to Titan a challenge that involves skills rarely needed in video games. Titan Run will be developed for PC as well as iOS and Android so it can be run on desktop computers, tablets and mobile phones.
Fuzzy Logic, an award-winning firm with offices in South Africa and the UK, has extensive experience in the gaming industry, having worked for major companies like Disney Interactive, Eurocom and Eidos. Fuzzy Logic's most notable product to date is Soccer Moves, which was released in November 2013 (iOS & Android) and became a top seller in 41 countries.
Titan Run, however, is a totally new concept that is pushing the envelope in the video game market. That said, the budget is significant and Fuzzy Logic is looking for some financial assistance to get the project off the ground.
Ried estimates the budget to be $191,000 and has launched a Kickstarter campaign to produce start-up revenue. Gaming fans who would like to support this project can visit http://www.kickstarter.com/projects/jasonried/titan-run to make a donation or view a demonstration video.
Depending on their donation levels, backers will receive early access to the beta version, T-shirts, copies of the game, Titan Run art books and an opportunity to name one of the ships. The top pledge ($4,150) is a trip to South Africa that includes a real safari that involves walking with wild lions.
"We're very excited about Titan Run," says Ried. "It has features that have never been incorporated into a video game before and it's one that gaming fans are going to love."
For additional information about Titan Run and Fuzzy Logic, visit http://www.kickstarter.com/projects/jasonried/titan-run or the company website, http://www.fuzzy-logic.co.za. Ried can be reached directly at info(at)fuzzy-logic(dot)co.za.