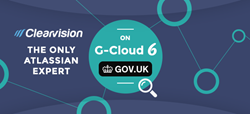 Clearvision's success is proof that the government's G-Cloud initiative is working on all levels. - Clearvision MD, Gerald Tombs
(PRWEB UK) 25 February 2015
G-Cloud 6 marks the next level of maturity for the platform, with the number of suppliers rising 15% to 1,453, and total sales growing 440% year-on-year to an impressive £354.6m to date.
The Cabinet Office has ambitious aims to grow the number of contracts awarded to SMEs using G-Cloud and Clearvision's success is proof that the plan is working.
G-Cloud stops lengthy procurement processes and ensures government departments get fair prices and quality customer service because all information is available to view upfront prior to listing.
By using an SME like Clearvision over larger organisations such as IBM, HP or Cap Gemini, government bodies have been able to adopt a more flexible and tailored approach to the roll out of new tools and online services.
With projects ongoing in the Home Office, DWP and the DVLA, Clearvision is establishing itself as the only expert resource for government organisations seeking guidance with the Atlassian tools, version control and Application Lifecycle Management (ALM).
Atlassian JIRA and Confluence have quickly spread from software development to other departments in many organisations and the public sector is no different.
These tools, now widely recognised as essential for managing change and encouraging collaboration, are helping government departments to organise information and improve productivity.
Clearvision's consultants have worked alongside government figures to implement and configure cloud tooling to meet specific requirements, and the whole project was delivered on time and within budget.
Clearvision's Managing Director, Gerald Tombs, said: "What we have demonstrated by working with government and G-Cloud is that SMEs can absolutely be trusted with even the largest projects. Clearvision's success is proof that the government's G-Cloud initiative is working on all levels."
"Now, as the only Atlassian Expert on G-Cloud 6, we are looking forward to helping more government departments get the most out of their Atlassian tools," he added.
In addition to being the sole Atlassian partner on G-Cloud 6, Clearvision is the only provider for Zendesk, Nexus Pro, Zephyr Test Management, Global Tester and CLM.
By providing a comprehensive range of best of breed tools, Clearvision is now recognised in government for their expertise across all ALM tooling and services.
To support these tools, Clearvision have a number of key partnerships, especially around government level cloud hosting.
CEO of Skyscape Cloud Services, Simon Hansford, said: "We welcome the latest iteration and look forward to continuing our partnership with Clearvision on G-Cloud 6 as the Framework continues to deliver transformational benefits to the UK public sector."
G-Cloud 6 marks the end of G-Cloud 4 and offers the public sector updated terms for procuring products and services.
To search for services simply visit: https://www.digitalmarketplace.service.gov.uk/
Alternatively, to make a more specific enquiry about the Atlassian tools, Clearvision's other services, or to speak to Clearvision about their relationship with the Digital Marketplace visit: http://www.clearvision-cm.com/contact-us/