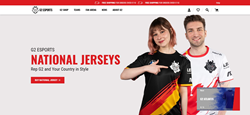 NEW YORK (PRWEB) September 09, 2021
Digital Silk, a creative digital agency, has recently launched a new online store and entertainment platform for G2 Esports — a leading brand in the esports industry.
The new platform consolidates G2 Esports' recognizable brand through a consistent design including bold typography, imagery and color palette.
To accommodate the brand's fast-growing offering, Digital Silk opted for a modular hero section that displays the latest and the trending additions to G2 Esports' collections.
The agency planned the home content strategically to highlight the platform's main offering and funnel the traffic to the key landing pages such as the news, online shop, teams and fan arena. This careful separation of the key landing areas along with the simplified navigation has helped the brand streamline the user journeys through their diverse website assets.
G2 Esports' online shoppers can easily explore the brand's collections by filtering the products by categories, type, sizes and price ranges. To enhance the shopping experience and increase conversions, the website also allows users to save their favorite products in a Wishlist and purchase them in a couple of clicks when ready.
Digital Silk's designers opted for a tertiary menu in the eCommerce space to allow the users to quickly jump between their desired product categories, from lifestyle pieces to accessories and hardware. By creating this eCommerce ecosystem within the website, the agency has managed to optimize the user experience for both audience segments: the e-shoppers and the entertainment platform fans.
With a large and loyal following, G2 Esports owes much of its success to nurturing the relationships with their existing fanbase. Digital Silk placed emphasis on social media integrations and newsletter subscription calls to action to allow the brand to grow their following across channels.
Businesses can explore the examples of Digital Silk's website design before and after's on the agency's website.
About Digital Silk:
Digital Silk is a creative digital agency focused on growing brands online. From custom websites to digital marketing, Digital Silk creates SUPERIOR digital experiences to drive higher conversions, greater brand engagement & measurable results.
About G2 Esports:
G2 Esports is one of the leading entertainment assets in esports, bringing together some of the best competitive players in the world and biggest personalities in gaming