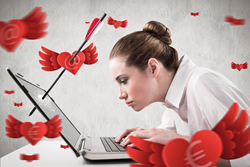 Besides using security software, anyone not wanting to fall victim to cyber criminals should keep their entire system fully up-to-date at all times
Bochum, Germany (PRWEB) February 13, 2015
Flowers, chocolates, jewelry – gifts that are popularly given to partners on Valentine's Day. But cyber criminals have highlighted February 14 on their calendars as well. Online fraudsters use phishing email or links in social networks to try to lure users into malware traps – to get hold of personal data such as credit card details or login data for online shops. Hence it is all the more important for partners' PCs and mobile devices to be comprehensively secured. G DATA advises Internet users to use caution with online shopping and spam email and presents ten security tips for Valentine's Day.
"Bogus offers are very popular with online fraudsters. The intention is to lure unsuspecting Internet users into their traps – especially on Valentine's Day. Hence we recommend that users check emails carefully and do not click on attachments or links without thinking," states Eddy Willems, Security Evangelist at G DATA Software AG. "Besides using security software, anyone not wanting to fall victim to cyber criminals should keep their entire system fully up-to-date at all times. This last point is usually ignored and frequently enables attackers to infect computers through open security holes in installed programs."
G DATA security tips for Valentine's Day:

Every PC should have an up-to-date, comprehensive security solution with a malware scanner and firewall as well as web and real-time protection. A spam filter that protects you from unwanted spam emails also makes sense.
In addition to the PC, mobile devices should also be fitted with a security app to protect them against malware and malicious apps.
The operating system, browser, software and security solution should always be kept up-to-date. This enables security holes to be immediately closed.
Emails from unknown senders should be deleted unread. You should also avoid opening file attachments such as greetings cards or videos, or clicking on links.
The language used can also be an indication of fraud. Friends are rather unlikely to send messages in a language other than their native tongue. Typos and grammatical errors are also often an indicator of undesired mail.
-You should never respond to spam emails, not even by clicking an alleged "Unsubscribe" link. A response shows the fraudsters that the address is being used and that makes it even more valuable.

Never thoughtlessly publish your own primary email address in places like forums and web portals, as it can be accessed by fraudsters there. It is useful to set up a secondary address for these purposes.
Shoppers should study online shops carefully before purchasing and find out all about the general business terms and conditions, the shipping costs and any other costs. It is also useful to take a look at the legal notice, and it is worthwhile doing some online research, to establish whether the operator is a known "black sheep".
During the payment process, users should look for security indicators in their browser. The critical ones are the padlock in the address line, the "https" abbreviation before the address itself and the correct domain being displayed. If users are using a payment service to pay for gifts, they should choose one offering buyer protection.
Online criminals exploit the users' trust for their purposes. In social networks, you should think twice before clicking on any links, even if they have been sent by friends. Services such as longurl.org help you verify short URLs.
About G DATA
IT security was invented in Germany: G DATA Software AG is the antivirus pioneer. It was more than 29 years ago that the company, founded in Bochum, developed the first program to combat computer viruses. These days, G DATA is one of the world's leading providers of IT security solutions.
For more information about the company and G DATA security solutions, see http://www.gdatasoftware.com
For sales inquiries in North America please contact Contronex, Inc.