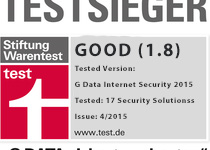 G DATA INTERNET SECURITY is the only recipient of the "very good" rating in the test.
Bochum, Germany (PRWEB) March 30, 2015
G DATA INTERNET SECURITY has been awarded first place in the comparison test run by renowned consumer organisation Stiftung Warentest, confirming last year's exceptional performance. G DATA INTERNET SECURITY was the only solution in the test to offer "very good" protection against malware and online attacks. Its antivirus functionality beat the competition for the eighth time in a row. Additional pluses: the regular virus signature updates, the hard disk scan with a very high rate of success, and good protection when surfing and when accessing USB storage devices.
Details about the test process
Security software tested: 17 security solutions, including G DATA INTERNET SECURITY
Carried out by Stiftung Warentest – http://www.test.de and published in 'test' magazine, issue 04/2015
Ranking
1. G DATA INTERNET SECURITY
2. Avira Internet Security 2015
3. BullGuard Internet Security 2015
4. AVG Internet Security 2015
5. Eset Smart Security 8
6. F-Secure Safe Internet Security 2015
7. Avira Free Antivirus 2015
8. AVG Antivirus Free 2015
9. Kaspersky Internet Security 2015
10.Avast! Free Antivirus 2015
Best protection: G DATA INTERNET SECURITY
G DATA INTERNET SECURITY reliably provides protection for PCs and personal data – with the best protection against viruses and Trojans plus a powerful firewall. It means that Internet users have the best protection against every danger – whether they are writing emails, carrying out online banking transactions or surfing.
Top features at a glance

Best protection against viruses and other malware
Instant protection for emails, also with SSL encryption
Exploit protection blocks malware that takes advantage of vulnerabilities in your software
Keylogger protection: automated, signature-independent real-time protection
Firewall protects against hacking
BankGuard technology for secure online banking
AntiSpam against advertisement and phishing emails
Free customer support 24/7/365
"We are delighted with the clear victory scored in the reputed test from Stiftung Warentest. We regard the excellent result as confirmation of the quality of our security solutions and, at the same time, as an incentive to continue developing the best security technology, enabling consumers to use the possibilities of the Internet as they want.", Walter Schumann, board member of G DATA Software AG
About G DATA
IT security was invented in Germany: G DATA Software AG is the antivirus pioneer. It was more than 29 years ago that the company, founded in Bochum, developed the first program to combat computer viruses. These days, G DATA is one of the world's leading providers of IT security solutions. G DATA, Inc. is the U.S. Subsidiary located in Atlanta, GA.
For more information about the company and G DATA security solutions, see http://www.gdatasoftware.com
For sales inquiries in North America please contact Contronex, Inc.