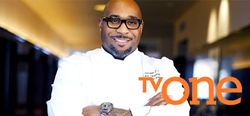 "We are thrilled to have G Garvin as our final Celebrity Chef for the 2016 Players Super Bowl Tailgate," said Kyle Kinnett spokesperson for Bullseye Event Group
Indianapolis, Indiana (PRWEB) January 06, 2016
Acclaimed chef, cookbook author and TV host Gerry Garvin (aka G. Garvin) is most widely known for his television series, Turn Up the Heat with G. Garvin, which ran for seven seasons on TV One. The show's increasing popularity earned the talented artist a second series on the same network entitled G. Garvin: The Road Tour, which premiered in 2007. Garvin also appeared in a Cooking Channel special, Georgia Roadtrip with G. Garvin. He is America's most down-to-earth chef, and his claim to fame is showing everyday cooks how to keep it simple with a Southern twist.
"We are thrilled to have G Garvin as our final Celebrity Chef for the 2016 Players Super Bowl Tailgate," said Kyle Kinnett spokesperson for Bullseye Event Group.
Last month Bullseye Event Group announced the selection of Guy Fieri as the head chef for the 2016 Players Super Bowl Tailgate. We are excited to announce our full lineup of celebrity chefs for the 2016 Players Super Bowl Tailgate. Bullseye Event Group assembled an all-star lineup of 4 of the hottest celebrity chefs in America who will prepare a 5-star food menu at the 2016 Players Super Bowl Tailgate.
Renowned Food Network celebrity chef and Iron Chef America winner, Sanctuary's Executive Chef Beau MacMillan and Aaron May the restaurateur who has forged partnerships to open Over Easy, The Lodge, The Goodwood Tavern, Arcadia Yacht Club and the Malibu Burger Co in California have also been added
Bullseye Event Group's exclusive Players Super Bowl Tailgate has earned a reputation as the premier Super Bowl pre-game experience, where over 25 active NFL players, celebrities and guests eat, drink and get entertained before the Super Bowl Championship game. Described as a culinary experience in itself, the event boasts having the most recognizable chef in America, Guy Fieri, to create the menu and prepare the food. If having Guy Fieri as the headliner chef wasn't enough, Bullseye Event Group has also signed Erin Andrews to emcee at the event.
The Players Super Bowl Tailgate features an open premium bar and all-you-can-eat food. Guests will enjoy a hospitality pavilion lined with tables, leather couches and other areas where they can watch ESPN's pre-game coverage broadcast on large television monitors before attending the Super Bowl.
"We host 25+ active NFL players in attendance that are the who's who of NFL. Super Bowl Champions, Pro Bowlers and the games hottest rookies. This is not an event where you go and see some retired NFL player from the yesteryears. The name The Players Super Bowl Tailgate says it all; this event is where you go to get up close and personal with the players you see on Sundays on television," said Kinnett.
Call Bullseye Event Group today at 317-800-5820 for pricing and insider information about 2016 Players Super Bowl Tailgate and Super Bowl Weekend Packages.
About Bullseye Event Group
Bullseye Event Group is the Official Events and Travel Partner of the Indianapolis Colts. As a secure, official source for travel, hotel, pre-game parties and tickets, Bullseye Event Group is a direct and dependable source for The Colts VIP Tailgate, Super Bowl 50 packages, The Players Super Bowl Tailgate, the Masters and event tickets, delivering unforgettable experiences to fans. To learn more, visit BullseyeEventGroup.com