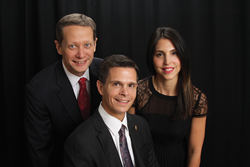 Mendham , NJ (PRWEB) January 26, 2017
Gabor Nagy, Mendham Wealth Partners, LLC is featured in a special section of the January issue of New Jersey Monthly as a 2017 Five Star Wealth Manager award winner.
"It is a great honor to be recognized for the quality of work and service we provide our clients. We'd like to thank our clients for the trust and confidence they have placed in us. We consider it a privilege to serve them," Gabor Nagy stated.
Five Star Professional partnered with New Jersey Monthly to identify and showcase an exclusive group of wealth managers who have demonstrated excellence in their field.
When asked about his business, Gabor Nagy said, "We are independent advisors with expertise in both risk management and investing. We take a holistic, team-oriented approach to planning with our objective being to create more wealth for our clients, better protecting it, without increasing risk or increasing cash flow into the plan."
The 2017 Five Star Wealth Manager award winners have been carefully selected for their commitment to providing quality services to their clients. The award is based on an in-depth research process incorporating peer and firm feedback with objective criteria such as client retention rates, client assets administered, industry experience and regulatory and complaint history.
"The research behind this award is extensive with each wealth manager being thoroughly vetted from numerous angles. We are proud to showcase these distinguished professionals," stated Jonathan Wesser, Research Director, Five Star Professional.
"My passion for helping people and building relationships that last a lifetime is why I got into this business. Life is short. You have to balance planning for tomorrow with living today. Don't forget to have fun!" declared Gabor Nagy.
The Five Star Wealth Manager award, administered by Crescendo Business Services, LLC (dba Five Star Professional), is based on 10 objective criteria. Eligibility criteria – required: 1. Credentialed as a registered investment adviser or a registered investment adviser representative; 2. Active as a credentialed professional in the financial services industry for a minimum of 5 years; 3. Favorable regulatory and complaint history review (As defined by Five Star Professional, the wealth manager has not: A. Been subject to a regulatory action that resulted in a license being suspended or revoked, or payment of a ¬fine; B. Had more than a total of three customer complaints ¬filed against them [settled or pending] with any regulatory authority or Five Star Professional's consumer complaint process. Unfavorable feedback may have been discovered through a check of complaints registered with a regulatory authority or complaints registered through Five Star Professional's consumer complaint process; feedback may not be representative of any one client's experience; C. Individually contributed to a financial settlement of a customer complaint ¬filed with a regulatory authority; D. Filed for personal bankruptcy; E. Been convicted of a felony); 4. Ful¬filled their ¬firm review based on internal standards; 5. Accepting new clients. Evaluation criteria – considered: 6. One-year client retention rate; 7. Five-year client retention rate; 8. Non-institutional discretionary and/or non-discretionary client assets administered; 9. Number of client households served; 10. Education and professional designations.
Wealth managers do not pay a fee to be considered or placed on the ¬final list of Five Star Wealth Managers. Award does not evaluate quality of services provided to clients. Once awarded, wealth managers may purchase additional profile ad space or promotional products. The Five Star award is not indicative of the wealth manager's future performance. Wealth managers may or may not use discretion in their practice and therefore may not manage their client's assets. The inclusion of a wealth manager on the Five Star Wealth Manager list should not be construed as an endorsement of the wealth manager by Five Star Professional or this publication. Working with a Five Star Wealth Manager or any wealth manager is no guarantee as to future investment success, nor is there any guarantee that the selected wealth managers will be awarded this accomplishment by Five Star Professional in the future. For more information on the Five Star award and the research/selection methodology, go to fivestarprofessional.com. 3,868 New Jersey wealth managers were considered for the award; 664 (18 percent of candidates) were named 2017 Five Star Wealth Managers.
Securities and advisory services offered through Commonwealth Financial Network, Member FINRA/SIPC, a Registered Investment Adviser.