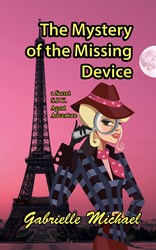 Writing ... It's a gift to yourself and it's a gift of giving a story to someone ~ Amy Tan
(PRWEB) January 14, 2014
Reading to children from an early age can encourage literacy, but how do parents encourage their children to take it one step further and develop an interest in writing? Ten-year old author Gabrielle Michael found a unique answer to this when she turned a creative writing school assignment into a short story for children with her debut novel, The Mystery of the Missing Device.
After spending hours of research and planning on her creative writing assignment, young author Gabrielle Michael drew on her own personal interests in spies, gadgets and travel to create a unique fictional adventure for herself and her sister in Paris.
Her reason for turning her story into a book? It was her Christmas gift to her teachers at school, a sign of appreciation for their efforts.
Many parents understand the benefits of cultivating reading habits at home. In fact, according to the National Center for Education Statistics (NCES), a divison of the U.S. Department of Education, children who are read to at home enjoy a substantial advantage over children who are not.
So how can parents continue to drive literacy in their children and take it beyond printing the alphabet and doing school assignments?
Give the child a reason to write. It could be as simple as putting thoughts down in a journal. It could also be an outlet for them express their creativity by writing stories for other children.
After all, who would understand what kids want to read better than the kids themselves?
Gabrielle Michael is the author of The Mystery of the Missing Device, a spy story for children, released by Islandreamz Publishing and available on Amazon at http://www.amazon.com/dp/B00HRFHK2C. Members of the media who wish to review her book may request a complimentary copy by contacting the publisher, Islandreamz Publishing at + 1 (817) 668-6839.